---
---
In Flower this Week
A weekly news sheet prepared by a Gardens' volunteer.
Numbers in square brackets [] refer to garden bed Sections. Plants in flower are in bold type.
13 August 2004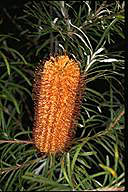 Banksia spinulosa - click for larger image
 View the flowers from Banks Walk and also the array of ferns and orchids edging the Rainforest Gully [Section 125] some clinging to the tree trunks while others prefer a rock bed.  Opposite, Grevillea rosmarinifolia 'Rosy Posy' [Section 182] is a neat small shrub with many pendent dusky red flower clusters.  Rounding the corner, the Queensland Silver Wattle, Acacia podalyriifolia [Section 126] is brilliant with fluffy balls of yellow flowers mingling with the grey-green foliage.  These acacias are seen throughout the gardens and flower earlier than other species.  Banksia spinulosa [Section 126], nearby, is a smaller rounded shrub containing many upright gold flower spikes.  Grevillea 'Poorinda Leane' [Section 124], with long lateral branches, bears apricot coloured spider flowers. … on the tops of the trees above, the large Yellow Tailed Black Cockatoos are holding their morning chatter.  Not far away the Crimson Rosellas seem to be trying to outdo them …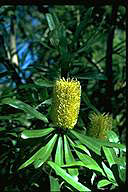 Banksia integrifolia subsp. compar - click for larger image
Walk through this area where Possum Banksia, Banksia baueri [Section 30, 27] displays its ever expanding rotund grey woolly flower spikes.  Heath Banksia,  Banksia ericifolia var. ericifolia [Section 30] is a larger shrub alight with slimmer gold flower spikes.  At the junction of this path, Grevillea lanigera [Section 25] is a dense ground-cover well covered with pink and cream flowers.  Take the smaller lane right where a group of Grevillea brevifolia subsp. brevifolia [Section 27] is blanketed with lovely rust red flowers.  Banksia spinulosa var. collina [Section 27] is of similar size, decorated with yellow flower spikes mingling with the neatly arranged leaves.  Continue along this narrow curvaceous path through the white and grey trunks of mostly Eucalyptus mannifera [Sections 25,27] and Banksia serrata [25,27] with their old rippled trunks and where the smaller birds including the White-browed Scrub Wrens and the colourful Blue Fairy Wrens scratch about in the leaf litter.  Banksia integrifolia subsp. compar [Section 27] is quite a large shrub with yellow flower spikes mixing with the smooth green foliage.  Almost opposite, Grevillea 'Sid Reynolds' [Section 25] is an erect spreading shrub with yellow and red flowers scattered amid the foliage.
On the upper level, Grevillea floribunda subsp. floribunda [Section 26] is an attractive neat small shrub with grayish green foliage accentuating the splendid pendent woolly rust coloured flower clusters.  Close by Grevillea paniculata [Section 26] has a long slanting trunk tipped with a mass of prickly foliage.  Its small white flower clusters along the branches are quite conspicuous.  At the intersection Correa pulchella (variant 10) [Section 112] is a small upright plant bearing rust-red pendant tubular flowers and Crowea exalata [Section 112] is a prostrate plant sprinkled with pale pink star flowers.
Opposite is a group of Crowea saligna [Section 191H] shrubs, so attractive with deep pink star flowers blending with the reddened tips of the foliage.
Returning, Hakea orthorrhyncha var. filiformis [Section 21] has many bare trunks cloaked with small lacey red flowers …now that's another interesting plant!
Birds and plants, they go well together …
Barbara Daly.
---
Updated 20 August, 2004 , webmaster, ANBG (anbg-info@anbg.gov.au)
---