---
---
In Flower this Week
A weekly news sheet prepared by a Gardens' volunteer.
Numbers in square brackets [] refer to garden bed Sections. Plants in flower are in bold type.
6 August 2004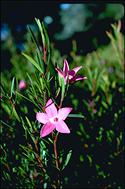 Crowea 'Festival' - click for larger image
The walk on this cold gusty day is not too far from the buildings.  Edging Banks Walk, where many flowers bloom, notice Woollsia pungens [Section 174] with white flowers encircling the long waving stems covered with well arranged short leaves.  Grevillea dielsiana [Section 174] has pendulous clusters of red and gold flowers mingling with the prickly leaves over a prominent rounded shrub.  Grevillea 'Flame 'n Beauty' [Section 174] is of similar size, also with prickly leaves but with terminal yellow and red flowers.  These two shrubs are separated by a Geraldton Wax, Chamelaucium 'Cascade Jewel' [Section 174] with arching branches well covered with bright pink dark centred open flowers.  At the curve Crowea 'Festival' [Section 174] continues to bear its attractive pink star-shaped flowers.  At the lower level Thryptomene saxicola 'Paynes' [Section 174] is a small shrub with its branches crowded with tiny pink flowers.  Hybanthus floribundus subsp. adpressus [Section 174] is of similar size with branches covered, in profusion, with white plus a dash of blue flowers.  The garden is edged with the prostrate Grevillea lanigera [Section 174] well covered with pale pink and cream flowers.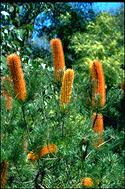 Banksia 'Giant Candles' - click for larger image
Cross over the bridge where the branches of Asterotrichion discolor [Section 66], laden with sprays of small creamy perfumed flowers reach over the bridge and road.  The Ellis Rowan Garden edging the building past the café, is another source of colourful flowers.  These include Epacris 'Nectar Pink' [Section 131] with low unruly branches of tubular white-tipped pink flowers while Epacris 'Portland Pink' [Section 131] displays all-pink tubular flowers on upright stems.  Dwarf banksias include Banksia 'Coastal Cushion' [Section 131] with upright lemon and red flower spikes.(These plants are all bird attracting).  In the square garden a wattle, Acacia alata [Section 240] is still covered with fluffy white flowers along its jagged stems.  Around the corner Banksia spinulosa var. spinulosa [Section 131] has many gold and black flower spikes on these older shrubs.
Walking uphill, below the white branches of the lovely old Eucalyptus mannifera  [Section 10] , long-flowering Tetratheca saxicola 'Pink Lace' [Section 10] covers its lateral branches with tiny pink flowers while opposite, Grevillea 'Scarlet Sprite' [Section 119] is well rounded and sprinkled with maturing red spider flowers.  Correa pulchella 'Pink Mist' [Section 119] is an upright shrub decorated with pendular pink tubular flowers. Up front, the brilliance of yellow is that of the Q'ld Golden Wattle, Acacia podalyriifolia [Section 119] where flowers blend with the grey-green foliage.
Taking the path beside the Q'ld Bottle Tree, Brachychiton rupestris [Section 302], compare the emu bushes,  Eremophila youngii [Section 302] with pale pink tubular flowers with grey-green foliage, Eremophila maculata subsp. brevifolia [Section 302] a smaller shrub bright with magenta coloured flowers and Eremophila laanii [Section 302] with brighter pink flowers.
On either side of the Brittle Gum Lawn compare Banksia ericifolia var. ericifolia [Section 109], an older shrub with bright gold flower spikes, and Banksia 'Giant Candles'[Section 107] with elongated gold flower spikes.
Returning downhill, edging the Rainforest Gully, the copper coloured leaves, so apparent in winter, are those of the Brush Pepperbush, Tasmannia insipida [Section 125]
Always another flower around the corner  …                                                                     Barbara Daly.
---
Updated 4 August, 2004 , webmaster, ANBG (anbg-info@anbg.gov.au)
---