---
---
In Flower this Week
A weekly news sheet prepared by a Gardens' volunteer.
Numbers in square brackets [] refer to garden bed Sections. Plants in flower are in bold type.
16 July 2004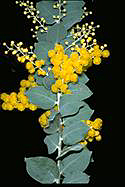 Acacia podalyriifolia - click for larger image
There are many interesting plants in flower in the Western Mallee section above the old nursery. On the way, edging the Banks Walk, Grevillea alpina, (Warby Range form) [Section 174] an upright shrub with branches covered with small leaves and showered with colourful red and orange maturing flowers.  Just past the cafe, in the Ellis Rowan Garden, Crowea 'Pink Blush' [Section 131] is pretty with almost white star flowers.  Walking towards the Rock Garden, the Queensland Silver wattle, Acacia podalyriifolia [Section 119] is radiant with a denser cover of soft golden flower balls mixed with the silver-grey foliage.  Past the Rock Garden, forever with an abundance of flowers, Hakea obtusa [Section 20] is a neat rounded shrub with globular clusters of pink and white flowers on branches almost concealed behind the leaves.
In the beds on either side of the road beside the old nursery are Olearia astroloba [Section 300], small open plants with grayish foliage and dark centred purple daisies.  Ground-covering plants include the dense Chrysocephalum apiculatum [Section 300] with a few clusters of orange button flowers over the grey foliage, Grevillea lanigera [Section 300] smothered with pink and cream spider flowers and Brachyscome multifida 'Breakoday' [Section 300] with mauve daisies mixing with the soft green foliage.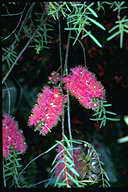 Melaleuca radula - click for larger image
The garden on the other side includes a small shrub, Correa pulchella [Section 100] decorated with pendent salmon coloured tubular flowers and Melaleuca radula [Section 100] a rather lanky shrub showing off its lovely pink lacey flowers.
On either side of the boardwalk in this mallee area are Gastrolobium propinquum [Section 100], a small shrub well covered with very small yellow pea-shaped flowers with red centre, Grevillea dielsiana [Section 100] which suspends its pendent clusters of bright orange-red flowers from open branches and opposite, Hypocalymma strictum subsp. longifolium [Section 100], in numerous settings, with pink frilly flowers along its stems.  The yellow bugle flowers seen on a small shrub are those of an emu bush, Eremophila maculata [Section 100] while at the curve Grevillea stenomera [Section 100] is a large open shrub with almost toothbrush-like red and cream flowers.  Grevillea maxwellii [Section 100] is semi-prostrate with deep red pendent flowers almost concealed by the dark foliage.
Past the curve Banksia epica [Section 100] is a low dense shrub with ochre coloured flower spikes and dark styles and later, Banksia ornata [Section 100] has ageing cream flower spikes tipped with grey.  Eremophila oppositifolia [Section 100] is still attractive with curved mauve, almost white, tubular flowers mixing the grey- green foliage.  Beaufortia decussata [Section 100], in the centre of the bed, displays its red flower heads along the long upright branches.  Nearby a wattle, Acacia aphylla [Section 10] is an odd leafless many-branched erect shrub dotted with yellow flower balls.  Agonis marginata [Section 100] has a covering of terminal globular flower heads coloured white with reddish centre over a shrub of medium size while Astartea sp. [Section 100] is small with many pink buds maturing to small snowy flowers.  And, in front, is Banksia ericifolia var. ericifolia [Section 103], large with long brilliant gold flower spikes.  
Worth the walk…                                                                                                                  Barbara Daly
---
Updated 16 July, 2004 , webmaster, ANBG (anbg-info@anbg.gov.au)
---