---
---
In Flower this Week
A weekly news sheet prepared by a Gardens' volunteer.
Numbers in square brackets [] refer to garden bed Sections. Plants in flower are in bold type.
9 July 2004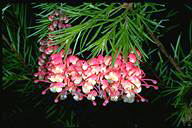 Grevillea rosmarinifolia 'Rosy Posy' - click for larger image
This walk includes a variety of flowers on a chilly winter's day.  Banksia 'Birthday Candles' [Section 174], one of many flowering banksias, is a dwarf shrub bearing numerous upright golden flower spikes.  Also along Banks Walk, Epacris impressa [Section 174] has pink tubular flowers clinging to its wiry branches while behind, Leptosema aphyllum [Section 174] displays large curved scarlet pea-flowers along the flattened stems.  Grevillea dielsiana [Section 174] with fine sharp leaves is softened with orange-red flowers dangling like lanterns from its branches.
Asterotrichion discolor [Section 66] is a tall graceful shrub with terminal clusters of perfumed flowers with male and female flowers on separate plants.  Banksia spinulosa var. collina [Section 128], yet small, has many yellow flower spikes with red styles.  Grevillea rosmarinifolia 'Rosy Posy' [Section 128] is another small shrub with pendent red flower clusters.  Grevillea 'Poorinda Leane'[Section 124] is a large open shrub with apricot coloured spider flowers.  In front, below the large branches of the picturesque Eucalyptus mannifera [Section 10] with white trunks, Thryptomene saxicola 'Pink Lace' [Section 10] has low arching branches covered with tiny pink flowers.  Across the road a grouping of Correa pulchella 'Mist Pink' [Section 119] dangle pink tubular flowers from their upright branches.  In front, the Queensland Silver Wattle, Acacia podalyriifolia [Section 119] is stunning with a combination of silver-grey foliage and soft golden flower balls.
Cross the Brittle Gum Lawn, where Banksia ericifolia [Section 109] displays its rich gold flower spikes and Banksia 'Giant Candles' [Section 107], an upright shrub, shows its elongated gold flower spikes.  It is a hybrid between Banksia ericifolia and Banksia spinulosa [Section 109] which can be seen at the opposite corner of this Section.  Edging the Rainforest Gully, Acronychia littoralis [Section 114,104] is a dense shrub of medium size well covered with shining green leaves and clusters of lemon flowers.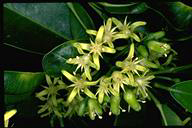 Acronychia littoralis - click for larger image
This small triangular garden bed includes Hemiandra pungens [Section 17], an upright shrub here, with mauve bugle-shaped flowers.  Of similar height, Epacris calvertiana var. calvertiana [Section 17] is splashed with white tubular flowers along upright stems.  A Geraldton wax, Chamelaucium 'Cascade Brook' [Section 17] has a coverage of dark-centred pink waxy flowers, while, in the centre of the garden, Alyogyne 'Westcoast Gem' is of medium size still displaying its deep purple hibiscus flowers.
The opposite corner contains an attractive display of Crowea 'Festival' [Section 123] crowned with pink star flowers over neat rounded shrubs.  In another corner a Lilly-pilly,  Acmena smithii [Section 140] has attractive pink fruits scattered in the foliage while a Wombat Berry, Eustrephus latifolius [Section 123] is a vine entanglement with orange fruits.  Opposite, Pittosporum undulatum [Section 140] is a tree with orange fruits which, like the above fruits, followed after white flowers.
Perhaps you could take a return walk through the relaxing Rainforest Gully with many shades of green but few flowers at this time of the year.
Always another flower around the next corner  …                                                            Barbara Daly.
---
Updated 9 July, 2004 , webmaster, ANBG (anbg-info@anbg.gov.au)
---