---
---
In Flower this Week
A weekly news sheet prepared by a Gardens' volunteer.
Numbers in square brackets [] refer to garden bed Sections. Plants in flower are in bold type.
28 May 2004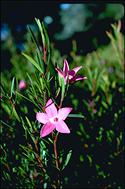 Crowea 'Festival' - click for larger image
Our fair city is colorful with the yellow of autumn leaves.  The Gardens are colourful with flowers, in particular, about the buildings.  In a pot outside the Information Centre doors, Acacia fauntleroyi stands upright with fine attractive foliage and a yellow flower ball here and there. The gardens on either side of Banks Walk include Banksia 'Birthday Candles' [Sections 172, 174, 210] a dwarf shrub with its lateral branches adorned with upright cylindrical golden flower spikes.  Overlooking other shrubs, Alyogyne 'Westcoast Gem' [Section 210] has a canopy of purple hibiscus flowers while, edging the path, upright and open, Sida cleisocalyx [Section 210] has open yellow flowers and yellowish-green leaves.  At its base Prostanthera sp. is a dwarf, and massed with mauve flowers.  Opposite, a ground-cover Viola hederacea [Section 174] has tiny mauve flowers and  Grevillea dielsiana [Section 174] is so graceful with pendulous clusters of orange-red flowers amid the fine sharp leaves.  Chamelaucium 'Cascade Jewel' [Section 174] bears many open waxy-pink flowers over the upright arching shrub while, around the corner Crowea 'Festival' [Section 174] is well covered with bright pink star flowers.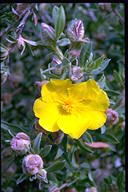 Hibbertia kaputarensis - click for larger image
This next area is the Ellis Rowan Garden next to the Café building.  Most plants are yet small and will grow to less than a metre, and the soils are built up for good drainage.  Plants include Crowea 'Pink Blush' [Section 131] with a delicate shade of pink flowers over this tiny shrub.  Banksia 'Stumpy Gold' [Section 131] is a dwarf plant with darkish gold flower spikes on the lateral branches.  Epacris longiflora [Section 131] has bright red, with white mouthed tubular flowers while Epacris 'Nectar Pink' [Section 131] has soft pink flowers and Epacris 'Portland Red' [Section 131] has all-red flowers.
Across the road a grouping of Crowea 'Cooper's Hybrid' [Section 240] is well endowed with pink star flowers.  In the small end garden Acacia alata [Section 240] is an interesting shrub with flattened, somewhat zig-zag stems with cream flower balls. Towards the Crosbie Morrison Building Banksia integrifolia var. integrifolia [Section 240] has upright lemon flower spikes over the dense prostrate shrub next to Grevillea 'Boongala Spinebill' [Section 240] with deeply toothed leaves and red toothbrush flowers.  In another corner such a tiny plant, Hibbertia kaputarensis [Section 143] is bright with open yellow flowers. Banksia 'Giant Candles' [Section 310 ] presents its elongated gold flower spikes over a fairly open shrub while Banksia ericifolia var. ericifolia [Section  239] is illuminated with many shorter gold flower spikes over a large dense shrub.
The next area, although further from the buildings, is attractive with many emu-bushes. Eremophila maculata subsp. maculata [Section 302] has bright yellow bugle-shaped flowers over a small shrub while Eremophila maculata subsp. brevifolia [Section 302] has magenta flowers. Eremophila warnesii [Section 302] has deep purple bugle-flowers amid the velvety grey-green foliage while Eremophila dalyana [Section 302] is very small with fine grayish foliage and pink flowers.  Across the path are others to view.
Fine flowers, much colour …                                                              
Barbara Daly.
---
Updated 27 May, 2004 , webmaster, ANBG (anbg-info@anbg.gov.au)
---