---
---
In Flower this Week
A weekly news sheet prepared by a Gardens' volunteer.
Numbers in square brackets [] refer to garden bed Sections. Plants in flower are in bold type.
21 May 2004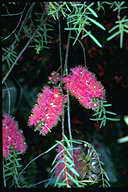 Melaleuca radula - click for larger image
This walk commences at the nursery and continues into the mallee area.  Walking to this area includes many colourful plants as do those along Banks Walk and those through- out the Rock Garden.  On the way note a bottlebrush, Callistemon 'Glasshouse Country' [Section 110] bearing rosy-pink flowers spaced out on the upright shrub, Hakea laurina [Section 20] well covered with golf ball size deep red flowers and Leptospermum squarrosum [Section 44] with branches crowded with open pink flowers.
Edging this uphill road, ground covers include Chrysocephalum apiculatum [Section 300] dense with grey foliage and dotted with small orange button flowers, Grevillea lanigera [Section 300], also dense with pink and white spider flowers and Brachycome 'Breakoday' [Section 300] with softer foliage and small mauve daisies.
On the opposite side of the road the floral emblem of NT, Sturt's Desert Rose, Gossypium sturtianum [Section 100] is still small, displaying pink-purple hibiscus-like flowers.  Eremophila maculata [Section 100] is glowing yellow with bugle-shaped flowers over a neat shrub, while Melaleuca radula [Section 100] is rather lanky, beautified with a sprinkling of pink fluffy flower balls.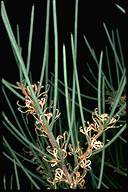 Hakea cycloptera - click for larger image
On either side of the boardwalk in this mallee area are Gastrolobium propinquum [Section 100], a dwarf plant bearing small yellow and red pea-shaped flowers, Eremophila bignoniifolia x polyclada [Section 100] a medium spreading shrub well covered with large white bugle-shaped flowers with a tint of mauve and a dark spotted throat.  Beside it is a patch of small plants of Lechenaultia biloba [Section 100] bearing powder blue flowers.  The small shrub well covered with small pink lacey flowers is Hypocalymma sp. [Section 100].  At the curve Grevillea stenomera [Section 100] is a large spreading shrub with yellow-tipped red somewhat toothbrush-like flowers.  Eremophila subfloccosa subsp. subfloccosa [Section 100] is a rather odd looking dwarf woolly shrub with curved light green tubular flowers almost concealed in the foliage.
Banksia epica [Section 100] is a low dense shrub with flower-spikes of all ages from tiny juvenile flower-spikes to mature light ochre with dark styles.  Eremophila oppositifolia [Section 100] continues to bear white, with a tint of mauve, tubular flowers over a shrub of medium size.  Shining from the garden centre, Beaufortia decussata [Section 100] displays it lovely red flower-heads along the long upright branches with small uniform leaves.  Edging the path, Scaevola phlebopetala [Section 100] shows off its bright yellow-centred purple flowers along its trailing stems.  Banksia ornata [Section 100] brightens this upright shrub with lemon flower-spikes dotted with grey styles.  Correa reflexa var. scabridula [Section 100] has red and ochre coloured tubular flowers along its low lateral branches.  A patch of dwarf plants, Goodenia varia [Section 100] are bright with yellow flowers while Hakea cycloptera [Section 100] is a neat rounded shrub with lacey flowers growing from base to tip.  At the exit Pimelea ferruginea [Section 100] has a cover of pink flowers in clusters covering this rounded shrub, and opposite, the grand old Banksia ericifolia var. ericifolia [Section 103] exhibits its rich golden flower spikes.
Worth the walk …
Barbara Daly.
---
Updated 20 May, 2004 , webmaster, ANBG (anbg-info@anbg.gov.au)
---