---
---
In Flower this Week
A weekly news sheet prepared by a Gardens' volunteer.
Numbers in square brackets [] refer to garden bed Sections. Plants in flower are in bold type.
14 May 2004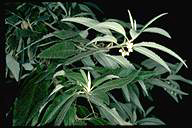 Asterotrichion discolor - click for larger image
Walk below the arching branches well covered with knobbly fruits and dark red female flowers of a sheoak, Allocasuarina thalassoscopica [Section 172] while, on the other side of the path, Hakea 'Burrendong Beauty' [Section 221] displays its pink globular flowers along the lateral limbs of the semi-prostrate shrub.  Edging Banks Walk Banksia 'Birthday Candles' [Sections 172, 174, 210] is dense, dwarf and spreading with any amount of upturned golden cylindrical flower spikes.  (Banksias are flowering throughout  the Gardens, all with their own shade and size).  Styphelia tubiflora [Section 174] is a wiry upright plant with red tubular flowers with protruding stamens.  Scaevola 'New Blue' [Section 210] hugs the earth, and path too, brilliant with its deep blue fan-flowers.  The perfume pervading the environment about the road crossing the Rainforest Gully is that of Asterotrichion discolor [Section 66].  This tall shrub overhanging the road has small white flowers amid the hairy leaves, male and female flowers on separate plants. Banksia spinulosa var. collina [Section 128] is yet a small shrub with gold flower spikes.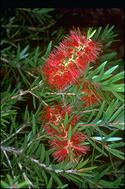 Callistemon 'Rose Opal' - click for larger image
Callistemon 'Rose Opal' [Section 124] is a tall rather narrow shrub with willowy foliage glowing with red bottlebrushes.  Scaevola albida [Section 124] is a dense ground cover dotted with pale blue flowers while opposite, below the white limbs of the large Eucalyptus mannifera Thryptomene saxicola 'Pink Lace' [Section 10] has a canopy of tiny pink flowers covering its low lateral branches.  A hedge of Correa pulchella 'Pink Mist' [Section 119] dangles its pink tubular flowers from the upright branches of these neat shrubs.  Correa alba var. alba [Section 120] is quite dense with an abundance of white star flowers blending with the silver edged leaves.  Turn towards the Brittle Gum Lawn where Grevillea 'Robyn Gordon' [Section 109] with low branches bears deeply divided leaves and reddish terminal flowers.  Banksia ericifolia var. macrantha [Section 109], behind the seat, has long orange flower spikes.  Banksia spinulosa var. spinulosa [Section 109], at the corner, is dense and rounded, sparkling with yellow flower spikes, now with Eastern Spinebills enjoying the nectar.  Across the lawn where Blue Wrens are dancing, Banksia 'Giant Candles' [Section 108] is a medium open shrub heavy with elongated golden flower spikes.  Across the road and edging the Rainforest, Acronychia littoralis [Sections 114,104], is of medium size, glistening with shining green foliage and clusters of small lemon flowers.  Walking up-hill, Goodenia grandiflora [Section 104] is a dwarf erect plant with yellow flowers which brighten the area.
In the triangle garden Alyogyne huegelii 'Westcoast Gem' [Section 17] with many purple hibiscus-flowers crowning the dense shrub is surrounded by the yellow straw daisies of Bracteantha sp. [Section 17], and around the corner Chamelaucium 'Cascade Brook' [Section 17] abounds with dainty pink wax-like flowers.  Across the road a grouping of Crowea 'Festival' [Section 123] sparkles with pink star flowers.
Taking the next narrow path, compare Banksia oblongifolia [Section 37] with green flower spikes with the tall ageing tree, Banksia ericifolia [Section 37] with gold flower spikes and Banksia media [Section 37] with mustard coloured flowered spikes.
Such flowers, enjoyed by birds and people alike …                                                          Barbara Daly.
---
Updated 20 May, 2004 , webmaster, ANBG (anbg-info@anbg.gov.au)
---