---
---
In Flower this Week
A weekly news sheet prepared by a Gardens' volunteer.
Numbers in square brackets [] refer to garden bed Sections. Plants in flower are in bold type.
7 May 2004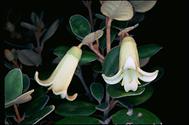 Correa 'Ivory Bells' - click for larger image
This walk focuses on the late autumn flowers in the Rock Garden where rocks act as a source of stored heat, absorbed during the day and dissipated slowly at night.  Soil mixes in the different beds provide suitable growing conditions for a range of special plants.
Starting at the base of the stairs at the waterfall, the Gymea Lily, Doryanthes excelsa [Section 15C] with large sword-like leaves surround the stem leading up high with tight buds preparing for spring to open to their striking red flower clusters.  Banksia integrifolia var. integrifolia [Section 15C] is a prostrate plant invading the footpath.  It has flat green leaves with silver backing and upright cylindrical lemon flower spikes.  Opposite, Correa 'Ivory Bells' [Section 15D] is dense and rounded, revealing small ivory tubular flowers.  Close by, Banksia 'Honeypots' [Section 15D] is a dwarf shrub with honey coloured flower spikes along its lateral branches.
An emu-bush, Eremophila warnesii [Section 15F] has tightly packed woolly grey leaves along its small upright stems with large purple bugle shaped flowers to brighten it up.  Nearby Hypocalymma xanthopetalum [Section 15F], nestled between rocks, has yellow feathery flowers edging the branches of this small shrub.  On the far side of this garden, Eremophila maculata var. brevifolia [Section 15F] is bright with lovely magenta coloured flowers. The prostrate Grevillea lanigera [Section 15W] drapes this slope with pink and cream spider flowers while above, Alyogyne 'Westcoast Gem' [Section 15W] stands upright, crowned with purple hibiscus flowers.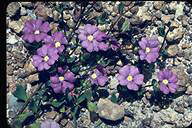 Scaevola striata - click for larger image
Ascending the stairs Plectranthus argentatus [Section 15A] has long stems of tiny bluish flowers rising from the large velvety grayish leaves of this herbaceous plant.  Grevillea 'Masons Hybrid' [Section 15H], at the top of the stairs, is a large shrub bearing large terminal cream and pink flower clusters.  Along this top road, find the very small prostrate plant, Scaevola striata [Section 15H] proud of its deep purple fan shaped flowers on its short trailing stems.  Scaevola albida var. albida [Section 15H] is quite a dense shrub well covered with small white fan-shaped flowers.  Beside is Dampiera sylvestris [Section 15H], a suckering plant with its blue flowers atop the upright stems.  At the far end of the Rock Garden, another emu-bush, Eremophila oldfieldii subsp. angustifolia [Section 15N] is a neat upright shrub with fine foliage and red bugle flowers.  The fine-lobed yellow-green calyces add interest to this plant.  Opposite, the large shrub, Hakea laurina [Section 20] displays its red, many with cream styles, pincushion-like flowers.
Returning along the lower path are numerous flowers.  Hibbertia longifolia [Section 15N] falls down between the rocks displaying its large cheerful yellow flowers.  Notice a grass tree, Xanthorrhoea johnsonii [Section 15N] with green grass skirt and upright flower spike well covered with white flowers – and bees.
Today a noisy chorus of Yellow Tailed Black Cockatoos are competing with a noisy chorus of Yellow Crested White Cockatoos – but then, the small Correa 'Pink Mist' [Section 15S] hangs its tubular flowers from the lateral branches and Crowea exalata [Section 15S] is sparkling with pink star flowers from the path above.
Flowers, flowers, beautiful flowers …                                                                   Barbara Daly.
---
Updated 6 May, 2004 , webmaster, ANBG (anbg-info@anbg.gov.au)
---