---
---
In Flower this Week
A weekly news sheet prepared by a Gardens' volunteer.
Numbers in square brackets [] refer to garden bed Sections. Plants in flower are in bold type.
26 March 2004
Whilst walking along the Main Path, gaze at the beauty of the eucalyptus trees with white mottled trunks, meander along the weaving path through the Sydney Region Flora, relax among the trees in the Eucalypt Lawns down to the Rock Garden full of small colourful plants and then through the cool, green Rainforest.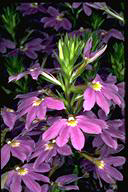 Scaevola 'New Blue' - click for larger image
Scaevola 'New Blue' [Section 210] brilliant with blue fan flowers hugs the Banks Walk path while Grevillea 'Deua Flame' [Section 131] is a small neat shrub showy with dangling red flowers, seen in the new garden in front of the café building.  Continuing along the path Callistemon subulatus [Section 10] is quite dense with needle leaves and red bottlebrush flowers while, down the side path, the large shrub with larger similar flowers is Callistemon citrinus [Section 9].  The other corner has numerous emu-bushes including Eremophila maculata subsp. brevifolia [Section 302] with purplish-red bugle flowers over the small open shrub.  Beside is Eremophila warnesii [Section 302] showing its larger violet flowers. (note the leaf variation, the latter being grey and woolly).
Surprisingly a waratah, Telopea 'Doug's Hybrid' [Section 30] has out-of-season terminal red flowers with many buds to follow.  Possum Banksia, Banksia baueri [Sections 30, 27] is a small open shrub endowed with, still small, grey woolly flower spikes.  Banksia ericifolia var. ericifolia [Section 30] is a much older and larger shrub displaying many juvenile pencil-thin flower spikes, some already coloured deep gold.  Nearby, Banksia 'Birthday Candles' [Section 30] is a dwarf, spreading plant with an abundance of upright lemon flower spikes.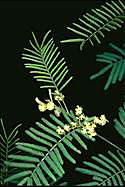 Acacia parvipinnula - click for larger image
Moving on to the Sydney Flora Region, Philotheca difformis subsp. smithiana [Section 112] is a neat rounded shrub with tiny white star flowers amid the soft green foliage.  Across the road, Podolobium aciculiferum [Section 191H] continues to bear small yellow pea-shaped flowers over the prickly shrub.  Following the winding path, Scaevola ramosissima var. ramosissima [Section 191H] borders the path with purple fan flowers along its trailing stems.  Amid the greenery here, the pink, or red, tubular flowers along upright stems are those of Epacris impressa [Section 191P] Victoria's floral emblem. The blue flowers are those of Dampiera stricta [Section 191P].  At the path junction is a stand of flannel flowers, Actinotus helianthi [Section 191E] with large white daisy-like flower heads seen above the green-grey flannel-like foliage.  Behind the circular seats, Crowea saligna [Section 191L] has pink waxy flowers over the small open shrubs.
Cross the spacious Eucalypt Lawn through a selection of wattles where Acacia  parvipinnula [Section 16,19] has soft divided leaves and lemon perfumed flower balls.  The Rock Garden abounds with flowers including Halgania cyanea [Section 15N] with deep blue flowers and Cyphanthera myosotidea [Section 15N] with blue and white streaked bell-shaped flowers.  Leaving this area Dampiera linearis [Section 15D] with blue flowers lives between the rocks.
The refreshing Rainforest Gully, so green, so cool, leads to the ramp where a mint bush, Prostanthera phylicifolia [Section 210] is showy with its small bugle-shaped purple flowers mix with the green foliage, Eremophila maculata [Section 210] continues to show its bright yellow tubular flowers and on the bank above, Correa glabra mixes its cream tubular flowers with the dense green foliage.
Such magnificent gardens …                                                                                               Barbara Daly.
---
Updated 24 March, 2004 , webmaster, ANBG (anbg-info@anbg.gov.au)
---