---
---
In Flower this Week
A weekly news sheet prepared by a Gardens' volunteer.
Numbers in square brackets [] refer to garden bed Sections. Plants in flower are in bold type.
19 March 2004
Milder autumn temperatures are welcome after the hot summer, although dry days persist. This week's walk starts at the end of Banks Walk, where Gippsland water dragons are often seen sunning themselves on the rocks at the water feature. Continue along the road beside the rain forest, turning right at Grevillea 'Royal Mantle' [Section 124] with coppery red new growth and red toothbrush flowers—wonderful living mulch. Grevillea  'Poorinda Leane' [Section 124] has bright apricot flowers. A groundcover Scaevola albida [Section 124] is covered with small blue fan flowers.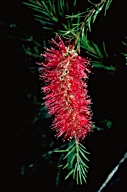 Callistemon subulatus - click for larger image
Just up the road, turn right. Near the Main Path Callistemon subulatus [Section 10] is bright with red flower spikes. In the bed to the left of the Main Path are many beautiful arid-zone Eremophila, with such a variety of flower and leaf shapes. Eremophila maculata subsp. brevifolia [Section 302] has crimson tubular flowers, Eremophila goodwinii [Section 302] pink/mauve tubular flowers and Eremophila christopheri [Section 302] mauve flowers.
Continue along past the striking Doryanthes excelsa , already producing tall flowering stalks for next spring. Near the next road junction you will pass a towering Eucalyptus elliptica [Section 30] with huge cream trunk. Turn left and on your right don't miss the small Teucrium racemosum var. racemosum [Section 6] with grey leaves and unusually shaped white flowers. A little further along, Teucrium argutum has smaller magenta flowers but broad green leaves.
Across the next road, take the mulched path. Near the Brittle Gum lawn, Grevillea 'Robyn Gordon' [Section 109] displays its huge pink/red flower sprays. Back on the Main Path, on the right as you enter the rainforest, Pyschotria simmondsiana [Section 104] has dainty, waxy five-petalled white flowers.  Cream, edible fruits should follow. Across the bridge and continuing down the Main Path, just before a stump on the right with a large Bracket fungus, a small Psychotria loniceroides [Section 64] has a cluster of similar white flowers.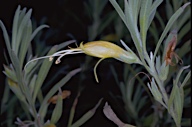 Eremophila glabra - click for larger image
Turn right up the next path, cross a road and experience the sudden change from cool dark rainforest, to the more open rainforest verge. Above the ramp on your right, a stand of Allocasuarina verticillata, with drooping branchlets, attracts attention. On the left Eremophila glabra [Section 213] has silvery grey foliage and scarlet tube flowers. After a clump of Cassinia laevis (Cough Bush) [Section 213] with sprays of creamy white flowers, a spectacular view opens up over the Lake. Take the winding path through the Mallee with its very different flora. At the corner, low growing Halgania cyanea [Section 213] has profuse blue flowers. Senna artemisioides [Section 211] has fine grey-green foliage, yellow flowers and long, flat seedpods. A fine-leafed form of Chrysocephalum apiculatum [Section 211] is covered with tiny gold 'Billy Buttons'. One of the many salt bushes, Rhagodia parabolica [Section 211] has sprays of mealy white flowers. At the corner, as you rejoin the road back to the Visitor Information Centre, Eremophila divaricata [Section 211] delights with its mauve tubular flowers.
Not a long walk, but so much variety.
Kath Holtzapffel
---
Updated 19 March, 2004 , webmaster, ANBG (anbg-info@anbg.gov.au)
---