---
---
In Flower this Week
A weekly news sheet prepared by a Gardens' volunteer.
Numbers in square brackets [] refer to garden bed Sections. Plants in flower are in bold type.
5 March 2004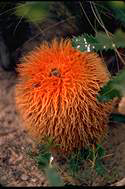 Banksia baueri - click for larger image
Come, see the early autumn flowers along the Main Path, commencing at the far end of the Café building.  The Purple Fuchsia-bush, Eremophila goodwinii [Section 302] is a small neat shrub well covered with soft mauve bugle flowers.  Pass the garden with many self-seeding yellow straw flowers, Xerochrysum bracteatum [Section 303] to be greeted by a waratah, Telopea 'Doug's Hybrid' [Section 30], a hybrid between Telopea speciosissima and Telopea mongaensis.  Regardless, the upright shrub has one out-of-season flaming red flower.  Possum Banksia, Banksia baueri [Sections 30, 27] is a small shrub with spreading branches.  The  flower-heads are still juvenile and already are pink-grey or cream-grey and woolly.  Adenanthos meisneri [Section 30] has a sprinkling of tiny tubular red flowers over this green mounded plant.  Banksia 'Birthday Candles' [Section 30] has many juvenile upright pencil-thin greenish-gold flower spikes and few maturing flower spikes over this dwarf, spreading plant. Banksia pilostylis [Section 25] is a taller dense shrub decorated with numerous honey coloured flower spikes.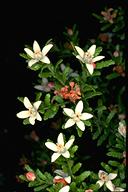 Philotheca difformis ssp. smithiana - click for larger image
Moving on to the Sydney Flora Region viewing the white mottled tree trunks, mostly of Eucalyptus mannifera where to-day the kookaburras are relaxing and laughing about the wonderful environment.  Philotheca difformis subsp. smithiana [Section 112] has small white open flowers mingling with the soft foliage of this small shrub.  Across the road, Podolobium aciculiferum [Section 191H] is a medium prickly shrub with small dagger shaped leaves and bright with small yellow pea-flowers.  At its base, Scaevola ramosissima var. ramosissima [Section 191H] is a small trailing plant with purple fan flowers along its trailing stems.  Following this curving path, Grevillea rhyolitica subsp. rhyolitica [Section 191S] has pendent clusters of red flowers over this small attractive shrub.  Overlooking the gully, all covered with the large fronds of tree ferns, Dicksonia antarctica notice the tall erect pink trunk of the Smooth-barked Apple, Angophora costata [Section 191]. Continuing, the blue flowers in the collection of green plants are those of Dampiera stricta [Section 191P] while around the corner a trigger plant so called because of the pollination method of catching insects, Stylidium graminifolium [Section 191P] is a tufted plant with terminal pink flower on the upright stems.  A tea-tree, Leptospermum rupicola [Section 191M] resting against a rock, has an abundance of open white flowers crowded along its stems.  Behind the circular seats find Crowea saligna [Section 191L] well covered with pink waxy star flowers over the small, light green plant.  Across the path, Goodenia heterophylla subsp. montana [Section 191L] here, a prostrate shrub, bright with small yellow flowers.
Cross the Eucalyptus Lawn to the Rock Garden abounding with flowers to find the deep blue flowers of the small shrub, Halgania cyanea [Section 15N] and the powder blue flowers of Lechenaultia biloba [Section 15N].
Continue through the Rainforest, so cool and pleasant to stroll through, to the ramp out in the sunshine where Brachyscome 'Nova Anglica' [Section 210] has pink daisy-like flowers amid the feathery foliage and Eremophila maculata [Section 210] is forever producing bright yellow tubular flowers.
Pleasant walking, remarkable flowers …                                                                            Barbara Daly.
---
Updated 3 March, 2004 , webmaster, ANBG (anbg-info@anbg.gov.au)
---