---
---
In Flower this Week
A weekly news sheet prepared by a Gardens' volunteer.
Numbers in square brackets [] refer to garden bed Sections. Plants in flower are in bold type.
27 February 2004
Rest in the Rockery
Rest a while on the bench placed under the old rock-rambling Grevillea 'Mason's Hybrid'[Section 15H], often known by its trade-name Grevillea 'Ned Kelly'. The longer you stay, the more you see! Even the rock in front of you has an interesting beauty in its colourful facets, which adds to the wonder of the three-dimensional interplay of foliage-tones and -textures. Stay long enough to let an Eastern Spinebill or New Holland Honey-eater show you how the long pollen-presenter of the Grevillea rubs pollen onto its forehead while it is feeding on the nectar from its tubular flower. See how the pollen-presenter remains tightly tucked into the flower until it is ready for pollination? The (introduced) bees are, in this case, nectar robbers!
These splendid rocks in Section 15 act as solar-charged heat-banks as well as making fine containers for the appropriate soils for a range of plants which otherwise would not tolerate our winters. Our recent heat wave has however made an impact on these plants and taken a toll on their flowers.
So, the variety of foliage of these plants is now very obviously a focus! Homoranthus darwinioides [Section 15F] has fully grown and its quaint pairs of light yellow flowers sit prettily atop the rounded grey-green bush, whose tiny leaves have a perplexing fruity fragrance.
Leptosema aphyllum [Section 14] not bothering with any leaves at all, has flattened stems and gets by nicely in this unusual fashion, although it looks a little awkward, if not absurd! Nevertheless its red tubular flowers aptly punctuate its presentation.
Muehlenbeckia axillaris [Section 15T] spills and spreads in comfort, tiny leaves, tiny flowers, like a big puddle.
Several Banksia integrifolia var. integrifolia [Sections 15L, 15C] are the prostrate form of the Coast Banksia and are forming their new creamy flower cones already. Although similar in habit to the much smaller plant above, the large leaves with their silver undersides as well as its large flowers mean there is no confusion between the two!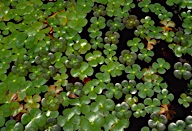 Marsilea drummondii - click for larger image
Rest a while longer near the waterfall, the Eastern Waterdragons have this down to a fine art! Again an abundance of foliage variety and depths, as well as sounds, to fill the senses!
Look at the plants around you, they have a 'watery' feel about them. The Leafy Twig Rush, Cladium procerum [Section 15Q] with its brown heads now forming seeds. The tall mauve flowered Lythrum salicaria [Section 15Q], now with only a few flowers left on its long spikes is a cosmopolitan species with some questioning whether it is truly 'native'. There's also the strange 4-leaved-clover fern, Nardoo, Marsilea drummondii [Section 15Q] which can grow with floating leaves or as a land plant (see it near the tap) – its hidden spore capsules sustained the explorers Burke & Wills for a short time before their eventual death at Cooper's Creek in 1861.
Do come back for next week's flowers along the main path. You can also select a previous week's walk from our web site or just come to walk the Gardens' paths in company of one our many volunteer guides, leaving the Visitor Centre each day at 11.00am and 2.00pm.
Sally.
---
Updated 1 March, 2004 , webmaster, ANBG (anbg-info@anbg.gov.au)
---