---
---
In Flower this Week
A weekly news sheet prepared by a Gardens' volunteer.
Numbers in square brackets [] refer to garden bed Sections. Plants in flower are in bold type.
20 February 2004
Amble down from the Eucalypt Lawn
As you emerge mid-section from the sheltered spaciousness of the Eucalypt Lawn [Sections 34, 35], perhaps after a Summer Jazz Concert and/or picnic, and leave the colourful trunks of some 80 of the 800 or so Australian iconic gum trees behind, see the dead-looking unnamed wattle tree [Section 3] on your right at the edge of the lawn, curiously springing back to life - a wreath of re-growth around a sawn-off limb and suckering along some of its roots! Cast a glance left and right (before you cross the road) at this group-planting of another very diverse Australian icon, the wattle or Acacia [Section 18, 1,2,3]. Not many identical twins among them, although as seedlings they all start with similar feathery leaves like Acacia oshanesii [Section 3], which you just passed on your right, its 'highliter yellow' flower balls dancing on its very dark green fernlike foliage.
Turn left to see on your left Acacia subulata [Section 19], which has flattened leaf stalks (phyllodes) instead of leaves and soft yellow flower balls in bunches along its leggy stems. A little further on is a stand of tall Acacia fulva [Section 19], which has retained its very lovely soft feathery mid-green leaves and has tightly packed rods of yellow flower balls sticking out of its foliage mass. .
Turn back and turn down onto the pebblecrete Main Path into the Hakea Section. There is a very large Blackwood, Acacia melanoxylon [Section 20], a little off the path on your left, full of cream-coloured flower balls. Continue and at the end of the lawn on your left, in a bed edged with dark yellow Chrysocephalum apiculatum green leaf form [Section 4] and vivid yellow straw flowers, stands Angophora melanoxylon [Section 4] with bunches of white furry flowers, almost a eucalypt. It has a six-sided edge around its gum-nut, but has no bud-cap. Continue, although you're forgiven if you linger a little at the oasis around the waterfall. Then turn left down the hill, noticing Callistemon pachyphyllus 'Smoked Salmon' [Section 110] on your right, an unusual smoked salmon coloured bottlebrush. A little further on your right the Wonga Wonga Vine Pandorea pandorana [Section 110] hangs very heavy with its long seed pods which have started to curl open to release furry floating seeds. Just past the next turn-off on your left is Eremophila longifolia [Section 7], looking like a little weeping willow with pink tubular flowers. Any raucous carrying-on overhead in the treetops may well be the hard-to-locate shadowy charcoal-grey Gang Gang Cockatoo, with a red crest if it is a male.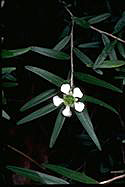 Leptospermum petersonii - click for larger image
Turn left through the bollards (just past the toilet block) to admire Callistemon chisholmii [Section 10], a tall, weepy but shapely shrub, its leaves a calming green backdrop for its pleasant cream, as well as soft pink, brushes. Looking over your left shoulder you'll see several tree-like lemon-scented Crimson Bottlebrushes, Callistemon citrinus [Section 9], part of a vast foliage collage into the distance, a really pretty picture.
Turn down the pebblecrete Main Path and a little further along look up to see both Eucalyptus deuaensis [Section 10], right, so similar to the Angophora we saw earlier except for its gum-nuts, and the blushing brushes of the River Bottlebrush, Callistemon sieberi [Section 11], left, meeting above the path. Continue, some more Callistemon chisholmii left and right [Section 10, 11] and before the intersection, on your left, is a tall, multi-stemmed tea tree, Leptospermum petersonii [Section 12] with very fragrant dark green leaves and white tea tree flowers. Across the road are some large Callistemon viminalis [Section 143], weeping their bright red bottlebrushes. Now either continue down the steps to make your way back to the Overflow Car Park, or turn right to the Café and Main Car Park.
A colony of recently transplanted rare 400-year-old native cycads, Macrozamia moorei, and several large native palms now graces the Entrance to the Australian National Botanic Gardens, a front yard blitz financed with funds raised by the Friends of the Gardens' Summer Concert Series.
Do come back for next week's flowers!  You can even select a previous week's walk from our web site or just come to walk the Garden's paths in company of one our many volunteer guides, leaving the Visitor Centre each day at 11.00am and 2.00pm (and 10.00am as well this month). Each walk is unique!  And good for you.
Sally
---
Updated 20 February, 2004 , webmaster, ANBG (anbg-info@anbg.gov.au)
---