---
---
In Flower this Week
A weekly news sheet prepared by a Gardens' volunteer.
Numbers in square brackets [] refer to garden bed Sections. Plants in flower are in bold type.
9 January 2004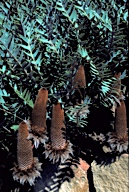 Banksia baxteri - click for larger image
This is a stroll along the Main Path with its plentiful flowers, some of which could be showing stress from the very hot days.  So, start at the far end of the Café building, taking heed of the notice relating to Jane Davenport's 'Ladybird Chronicles' and the enormous directional ladybirds.  Leptospermum polyanthum [Section 12] is an open shrub with arching branches covered with tiny white flowers.  A Grey Myrtle, Backhousia myrtifolia [Section 10] with dark shining leaves, is a dense tall shrub well covered with small cream star flowers.  Melaleuca 'Hot Pink' [Section 11] continues to produce its attractive flower clusters on the rather woody open shrub.
In this garden of numerous grasses, Kangaroo Grass, Themeda triandra [Section 8] is a tussocky fine leaf grass with strands of lovely tan coloured flower heads.  Amid the grass find the Blue Devil, Eryngium rostratum [Section 8], a small interesting plant with heads of prickly electric blue flowers.  In the distance kangaroo paws, Anigozanthos 'Bush Baby' [Section 7] with brilliant yellow 'paw' flowers and Anigozanthos 'Bush Ruby' [Section 7] with ruby coloured flowers are seen.
Banksia baxteri [Section 30] is yet a small shrub with long deeply toothed leaves and a small yellow-brown flower spike.  Another banksia nearer the path, Banksia blechnifolia [Section 25] is a dwarf spreading shrub with a few ageing dark flower spikes rising from underground branches, also with long deeply toothed leaves many of which show lovely new tan coloured growth.  Grevillea banksii var. forsteri [Section 24] has long slender branches with large terminal red conical flower spikes.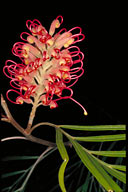 Grevillea banksii var. forsteri - click for larger image
Following the winding path through the Sydney Flora Region, plants include the prostrate Scaevola ramosissima var. ramosissima [Section 191H] with purple fan flowers along its trailing stems.  Platylobium formosum [Section 191H] is a neat rounded shrub with small sharp leaves and yellow pea flowers.  Prostanthera porcata [Section 191S] has cream tubular flowers on a small upright shrub.  The garden opposite the gully look-out is colourful, mainly with the blue flowers of Dampiera stricta [Section 191P] and white Flannel Flowers, Actinotus helianthi 'Federation Stars' [Section 191P].  There, too, are the Fringed Lily, Thysanotus juncifolia [Section 191P] with frilled three-petalled purple flowers, Helichrysum adenophorum var. waddelliae [Section 191P], a small herb with white daisy flowers on short stems, and Xyris gracilis [Section 191P,G] a small tufted plant with yellow three-petalled flowers on upright stems.
At the intersection, a group of Platysace lanceolata [Section 191E] is 'florific' with heads of small white flowers over the dense shrubs, while further on is a forest of Bursaria spinosa [Section 191E], slim upright thorny shrubs with terminal sprays of white flowers.
Cross the shady Eucalyptus Lawn to the Rock Garden which abounds with flowers.  The tiny Halgania cyanea [Section 19N] with blue flowers and Scaevola calliptera [Section 15R] brilliant with its blue flowers.  Entering the pleasantly cool Rainforest, see Hibiscus heterophyllus [Section 104] charmed with large white flowers smudged with pink and deep pink throat … and more colour down the ramp.
Happy New Year to all …                                                                                            Barbara Daly.
---
Updated 12 January, 2004 , webmaster, ANBG (anbg-info@anbg.gov.au)
---