Australian National
Botanic Gardens

In Flower This Week

A weekly news-sheet prepared by a Gardens volunteer.
Numbers in brackets [ ] refer to garden bed 'Sections'. Plants in flower are in bold type.
26 December 2003
Summer time, and the cicadas continue their song.  This short walk will take in some shadier areas of the gardens.  Before crossing the bridge across the Tasmanian section of the rainforest, you can see every detail of the cream flowers of Lomatia polymorpha [Section 305] on your left.  Continuing along the Main Path past the kiosk, many attractive cultivars have recently been planted [Section 131], including Crowea 'Ryan's Star' with profuse deep pink flowers, Brachyscome 'White Delight' with masses of white daisy flowers, and Platysace 'Edna Walling Flower Girl' with tight clusters of white flowers.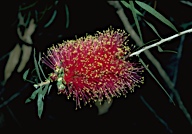 Callistemon rugulosus var. rugulosus - click for larger image
Across the road, still on the Main Path, on the right a flowering ironbark Eucalyptus sideroxylon [Section 12] showers its pink flowers onto the ground.  Further on the small cream brushes of Callistemon sieberi [Section 11] are profuse. Turning right at the next corner, Callistemon brachyandrus [Section 11] has small red brushes with yellow tips.  Next Callistemon rugulosus var. rugulosus [Section 11] has large red brushes with yellow tips, while its neighbour Callistemon citrinus [Section 11] has crimson brushes and soft pinkish new growth.  Opposite some large red flowers should remain on Leptospermum spectabile [Section 9]. Then, on either side of a side path, are two graceful Micromyrtus grandis [Section 9] with tiny leaves and flowers. Soon a huge, dark-trunked Eucalyptus smithii looms into view – on its far side some trunks have already been removed. On the right the brilliant orange flowers of Eremea beaufortioides [Section 11] can be seen.
Turning left at the next path, Lambertia inermis [Section 27] has spider-like arrangements of nectar-laden, red tube flowers.  Opposite Austromyrtus tenuifolia [Section 30] has attractive white flowers.
Turn left onto the Main Path, then take the next path to the right.  Just around the corner on the left, near a large 'ribbon' gum, a fine leaved form of prostrate Myoporum parvifolium [Section 30] has profuse white flowers.  Next a Kurrajong, Brachychiton populneus, [Section 30] has profuse cream, bell-shaped flowers.  Pick up one of the fallen flowers to see the lovely reddish-brown markings inside.  Just past a large brittle gum, Eucalyptus elliptica, Melaleuca 'Ulladulla' [Section 30] has large red brushes. Coming out into the more open Monocot area, Anigozanthus 'Bush Baby', 'Bushranger' and 'Bush Glow'[Section 8] are spectacular.  Opposite is Anigozanthos 'Bush Ruby' [Section 8].  On the right is a showy Eremophila racemosa [Section 7] with gold/orange buds and reddish-purple flowers.  Still on the right as the path curves round are many more interesting eremophilas.  The Queensland Bottle tree Brachychiton rupestris [Section 302] with swollen stem is in the same family as the Kurrajong.
Turning down the road Baeckea gunniana [Section 119] has dainty white flowers and leaves.
                                                                                                          Kath Holtzapffel

                               Barbara Daly.
---
---