Australian National
Botanic Gardens

In Flower This Week

A weekly news-sheet prepared by a Gardens volunteer.
Numbers in brackets [ ] refer to garden bed 'Sections'. Plants in flower are in bold type.
19 December 2003
Tis summer time …Tis hot !   This walk is through the Mallee area where plants come from a hot environment so come and enjoy its beauties.  On the journey view, on the far side of the Rainforest, Cymbidium suave [Section 125], a semi epiphytic orchid attached to tree stumps.  The long arching strappy leaves may tend to conceal the lovely loose sprays of greenish-brown flowers.  The native elderberry, Cuttsia viburnea [Section 125] is a large dense shrub with shiny leaves and well covered with clusters of small white fragrant flowers.  Towards the Rock Garden are a few tall golden Silky Oaks (would be ideal for Christmas trees), Grevillea robusta [Section 78,l05] well covered with long toothbrush like flowers, many of which are on the ground dropped by nectar loving birds.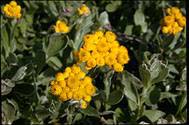 Chrysocephalum apiculatum - click for larger image
This particular walk starts from the corner of the Nursery.  The road  is edged with the heads of bright yellow flowers of Chrysocephalum apiculatum [Section 34] amid its silvery grey foliage.  Derwentia perfoliata [Section 100] has long arching stems with green-grey stem-clasping leaves and terminal sprays of blue flowers.  The Coppercup, Pileanthus limacis [Section 100] is most conspicuous in this section.  The small shrubs are profusely covered with its rich pink flowers. Prostanthera florifera [Section 100] is a dwarf dense plant prolific with deep crimson bugle-shaped flowers with spotted throats.  Calothamnus chrysantherus [Section 100] has fine curved foliage and brilliant red feathery flowers in small clusters over the medium size shrub..
Following the inner boardwalk in an anticlockwise direction Billardiera lehmanniana [Section 100] with purple centred tiny white flowers, twines itself about a tree trunk. Scaevola striata [Section 100] exhibits its large violet fan-shaped flowers with yellow throats, along the prostrate stems.  Eremophila bignoniifolia x polyclada [Section 100] spreads its branches with large white bugle flowers with mauve spotted throats.  Nearby a grouping of small Lechenaultia biloba [Section 100] with flowers so powdery blue surrounds the brilliant red feathery flowers of Verticordia mitchelliana [Section 100].
From the path bend, the small shrub, Verticordia chrysantha [Section 100] is well covered with bright yellow feathery flowers while close by Verticordia plumosa var. plumosa [Section 100] of similar size has clusters of pale mauve flowers.  Thryptomene micrantha [Section 100] is a low shrub with long lateral branches covered with its small open flowers.  Next to a sharp leafed triodia grass, Eremaea pauciflora var calyptra [Section 100] shows its lovely orange fluffy flowers while, across the path, Banksia caleyi [Section 100] displays its bright rust-red flower spikes which emerge from the base of the small dense shrub  Towards the top, Melaleuca eliptica [Section 100] bears cherry-red bottlebrush flowers while behind, Melaleuca hamulosa [Section 100] has smaller white flowers.  Grevillea asteriscosa [Section 100] has low arcing branches with prickly foliage and blood red curvaceous flowers.  Banksia coccinea 'Waite Crimson' [Section 100] has striking squat cylindrical scarlet on grey flower heads and Lambertia ericifolia [Section 100] with its well designed orange flowers on a tall shrub.
All to the background chorus of the Cicadas …

                               Barbara Daly.
---
---