Australian National
Botanic Gardens

In Flower This Week

A weekly news-sheet prepared by a Gardens volunteer.
Numbers in brackets [ ] refer to garden bed 'Sections'. Plants in flower are in bold type.
5 December 2003
After leaving the Visitor Centre the prominent purple flowers of the Alyogyne huegelii , [Section 210], are easily seen, followed by the bright flowers of Leptospermum 'Merinda', [Section 210], while on the right hand side of the path, in front of the statue of Sir Joseph Banks, are clumps of Flannel Flowers, Actinotus helianthi 'Federation Stars'.
Keeping to the same path there are a couple of Grevillea barklyana  subsp. barklyana, [Section 125], with their delicate pink, one-sided flower heads.  We are heading up towards the Rock Garden, so turn off to the right, up a slight slope and again on the left is Callistemon 'Howies Fire Glow', [Section 124], and a little further on, on the same side, are two much older specimens of Callistemon 'Harkness', [Section 124], showing off  their bright red flowers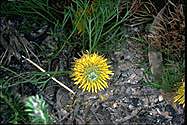 Isopogon prostratus - click for larger image
The first plant one notices coming to the Rock Garden is the last flowering specimen of Doryanthes excelsa, [Section 15c], carried right at the top of its long stalk which doesn't look as though it is strong enough to hold it upright!  Acanthocladium dockeri, [Section 15c], is a small, grey coloured daisy with equally small yellow flowers, while Isopogon prostratus, [Section 15c], has dark green foliage complimented by its bright yellow flowers.  Eremaea pauciflora, [Section 15b], has green foliage which shows off its small, orange pom-pom shaped flowers. Bulbine semibarbata, [Section 15d], is a small, clumpy plant with its green stems set off by bright yellow star shaped flowers.  The huge, Eucalyptus morrisbyi, [Section 15c], is not in flower, but has managed to send its branches tumbling down the face of a reasonable sized rock now almost completely covered. 
Then there are plantings between the tarred road/walk-way and the newer path which is below.  This area has some interesting specimens.  Quite a few Xanthorrhoea johnsonii, [Section 14], better known as grass trees, all with the black and grey burn look to their trunks, and some even have bright green fronds.  There is a seat here too, down on the cement path, where one may sit and admire the many different types of plants.  Just behind the seat itself, is a very pleasant garden.  Verticordia pennigera, [Section 14], is not very big but very pretty with its mauve flowers and, a little further back is Eremophila goodwini, [Section 14], slightly larger with deeper mauve flowers.  Then immediately behind the seat is Dryandra pteridifolia, [Section 14], perhaps 50cm high, with the top portion of its leaves/fronds a delightful rusty colour.  Muehlenbeckia axillaris, [Section 15j], is a prostrate plant with dark green foliage and tiny, yellow star-like flowers.  Lasiopetalum involucratum, [Section 15r] has rather dull foliage, the flowers are just past their best, but the whole plant, with its tan seed cases, looked great!  Walk past the waterfall and there is Leptospermum 'Aphrodite' [Section 15c] with very definite pink flowers. Still more to see so on your walk to the car park and the Rainforest Gully is very pleasant on a hot day.                                                           Naomi Bell
---
---