Australian National
Botanic Gardens

In Flower This Week

A weekly news-sheet prepared by a Gardens volunteer.
Numbers in brackets [ ] refer to garden bed 'Sections'. Plants in flower are in bold type.
7 November 2003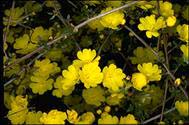 Hibbertia empetrifolia - click for large image
Take this walk to experience the diversity of our flora, the range of colour is amazing. Opposite the Visitors Centre the small orchids, Dendrobium kingianum [Section 212], against the trunk of the giant cycad Macrozamia moorei [Section 212] displays its soft pink flowers.  Alyogyne huegelii [Section 212] has paler pink hibiscus-like flowers while Leptospermum polygalifolium 'Pink Cascade' [Section 210] has mottled pink open flowers along its branches which flow over the rock walls.  Hibbertia empetrifolia [Section 210] is a dense mass of stems well covered with bright yellow flowers amid the dark green foliage.
Opposite, Grevillea dielsiana [Section 174] is upright and graceful with fine sharp leaves and orange-red flowers dangling from the branches. See the patch of Lechenaultia biloba [Section 174] with different shades of blue over the dwarf plants.  Around the corner Dampiera diversifolia [Section 174] drapes its strands of deep blue flowers over the rocks and Acacia lasiocarpa var. lasiocarpa [Section 174] contrasts with bright yellow flower balls over the dwarf plant. The crescent garden ends with Tetratheca pilosa subsp. latifolia [Section 174] with pink down-turned flowers over a neat small shrub.
Below the car-park the eye-catching blue and dark pink daisies on upright stems are those of Olearia phlogopappa [Section 170].  While there, notice the myrtle beech, Notofagus cunninghamii [Section 142], a small attractive tree with new tan coloured foliage.  Then follow the next path where a waratah, Telopea mongaensis x speciosissima [Section 142] is resplendid with its dazzling red flower spikes terminating the open branches. Pass by the pools where Eastern Water Dragons, Physignathus lesueurii howittii bathe or sun on the rocks.  Opposite the café below the lawns are many mint bushes including Prostanthera linearis sp. aff. linearis [Section 243] with violet coloured flowers and dark green foliage over the semi-prostrate shrub and Prostanthera 'Oakdene Mauve' [Section 243] a medium size shrub with a sprinkle of pale mauve flowers.
Walking around the Crosbie Morrison Building, the area is brightened with the large terminal flowers of Telopea speciosissima [Section 239] while at the back entrance, Eucalyptus caesia [Section 239] with dark flaking bark shows off the last of its lovely frilly pink flowers on long arching branches.  Opposite Melaleuca fulgens 'Hot Pink' [Section 239] bears its dense flower clusters on a medium open shrub.
Walking uphill, the yellow centred white daisies of Helichrysum 'Helping Hand' [Section 127 and elsewhere] have a backdrop of a dense climber, Pandorea pandorana [Section 127] already dropping its masses of cream tubular flowers.  Pultenaea pedunculata 'Pyalong Pink' [Section 124] is a tiny prostrate plant with a covering of pale pink pea flowers.  Bauera rubioides [Section 124] is semi-prostrate with arching branches of double pink flowers. Grevillea 'White Wings' [Section 124] has branches covered in profusion with white frilly flowers cascading down the slope. Edging the Rainforest Gully opposite the Café, Grevillea barklyana [Section 125] has long arching branches with pink toothbrush flowers amid the long lobed leaves.
A remarkable place, these Gardens …                                             Barbara Daly.
---
Updated Thursday, 6 November, 2003 by Jan Wilson(jan@anbg.gov.au)
---