Australian National
Botanic Gardens

In Flower This Week

A weekly news-sheet prepared by a Gardens volunteer.
Numbers in brackets [ ] refer to garden bed 'Sections'. Plants in flower are in bold type.
31 October 2003
As the Main Path weaves through a maze of colour, we will focus on a few eye-catching flowers, commencing at the far end of the Café building where a Geraldton Wax cultivar, Chamelaucium uncinatum 'Purple Pride' [Section 12] presents its deep purple waxy flowers on an upright open plant. An emu bush, Eremophila drummondii [Section 302] has purple bugle flowers mixing with the dark green foliage while another, Eremophila nivea [Section 302], has mauve flowers mixing with the grey foliage.
The brilliance of the red flowers of waratahs are seen throughout the Gardens.  Telopea 'Doug's Hybrid' [Section 30] is crowned with these red flower heads and Telopea speciosissima 'Parry's Dream' [Section 30], nearby has flowers of an ovoid shape. Opposite, Homoranthus sp. [Section 30] is a small shrub with its spreading branches covered with small yellow upturned flowers.  Also small, Banksia blechnifolia [Section 30] with deeply lobed leaves has dusky red flower spikes which emerge from the soil.
The path then passes through an area of many grevilleas.  Grevillea johnsonii x wilsonii [Section 24] has lovely red waxy curvaceous flowers amid the soft foliage of the upright shrubs and Tumut Grevillea, Grevillea wilkinsonii [Section 24] is also tall and upright and well covered with terminal lilac flower spikes.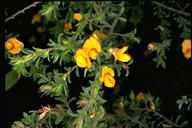 Pultenaea villosa - click for larger image
Crossing the road, Boronia muelleri 'Sunset Serenade' [Section 112] is a neat small shrub covered with delicate pink star-like flowers. Entering the Sydney Region Gully, Boronia fraseri [Section 191H], one of several boronias along this path, is also small and dense with deep pink flowers.  Indigofera australis [Section 191S] is slender with green-blue foliage and sprays of pink pea flowers.  Scaevola ramosissima [Section 191P] is prostrate with large purple fan shaped flowers on the radiating branches.  Sowerbaea juncea [Section 191G] is a tufted plant with clusters of mauve flowers on upright stems.  Across the path Pultenaea villosa [Section 191J] is quite dense and well covered with yellow pea flowers.  Beside, Tetratheca thymifolia [Sectiion 191J] is small and dense with down-turned pink flowers. The river rose, Bauera rubioides [Section 191M], also has pink down-turned flowers scattered over the spreading prostrate shrub.
Cross the pleasant Eucalypt Lawn to the Rock Garden, with Helichrysum 'Helping Hand' [Sections 19,18] bearing large yellow centred white daisies edging the path through the glade of wattles.  Dampiera diversifolia [Section 15R] is a dense prostrate herb well covered with small blue flowers while, at the corner are the lovely pink daisies of  Rhodanthe chlorocephala subsp. rosea [Section 15R].
Entering the Rainforest, Podolepis monticola [Section 114] has bright yellow frilly daisies. Clinging to the rocks, orchids Dendrobium speciosum [Section 104] displays its long spikes of creamy flowers and Dendrobium kingianum [Section 104] has smaller pink flowers.  Near the exit of this area the peach blossom orchid, Sarcochilus falcatus [Section 148] with lovely white flowers clings to the tree trunks.
Melaleuca fulgens 'Hot Pink' [Section 210] and other flowers continue down the ramp.
Such colour… such splendour …                                           Barbara Daly.
---
Updated Thursday, 6 November, 2003 by Laura Vallee (laura.vallee@deh.gov.au)
---