Australian National
Botanic Gardens

In Flower This Week

A weekly news-sheet prepared by a Gardens volunteer.
Numbers in brackets [ ] refer to garden bed 'Sections'. Plants in flower are in bold type.
24 October 2003
Floriade with its dazzling floral beauty is over  … not so our chromatic floral colours here in the Gardens.  View the gardens edging Banks Walk then seek the following beauties in the Rock Garden, starting at the base of the waterfall and following the path in a clockwise direction.
Gymea Lily, Doryanthes excelsa [Section 15C] bears its large red flower clusters on top of an elongated upright stem, surrounded by large sword-like leaves.  Edging the path, Tetratheca thymifolia [Section 15C] is a low bushy shrub with white down-turned flowers.  Grevillea 'Royal Mantle' [Section 15D] with dark red toothbrush-like flowers, sweeps down the rockface, while Dampiera salahae [Section 15D], in a sheltered nook, is bright with blue flowers on this small plant.  Grevillea brachystylis [Section 15D] is a slim upright shrub with bright red flowers along its branches. Nearby Grevillea dimorpha [Section 15D] has deep red flowers on a similar shrub.  Lechenaultia biloba [Section 15D] is a dwarf plant with flowers coloured a powder-blue blending with the soft pink daisies of Rhodanthe chlorocephala subsp. rosea [Section 15D,15E and elsewhere].
Zieria odorifera [Section 15F], crammed between the rocks, is floriferous with tiny pink flowers, and above it the perfume of Boronia megastigma 'Virtuoso' [Section15F] with small bell-like brown flowers pervades the environment.  At the base of the stairs, Prostanthera staurophylla [Section 15A] is clad with lovely mauve flowers and beside, Westringia glabra [Section 15A] is dense and rounded with pink, similarly shaped flowers.  In front Bulbine glauca [Section 15A] presents its yellow star-like flowers on long upright succulent stems. At the top of the stairs shrubs include those of Micromyrtus sessilis [Section 15A] with low arching branches enveloped with tiny pink flowers and Phebalium whitei [Section 15A], a small shrub bearing yellow flowers.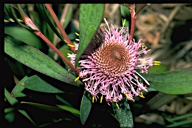 Isopogon cuneatus - click for larger image
From the top road a waratah hybrid, Telopea 'Braidwood Brilliant' [Section 15H], a large dense shrub, is laden with red flower heads, not quite mature.  Grevillea lavandiculacea [Section 15H] is a semi-upright old shrub with deep red flowers mixing with the grey-blue foliage.  Hypocalymma angustifolium [Section 15H] has a dense network of branches well covered with tiny pink and white frilly flowers and Hibbertia empetrifolia [Section 15H] is a dense entanglement of trailing stems with yellow open flowers, over nearby shrubs.
Taking the path between the grass trees, Xanthorrhoea johnsonii [Section 15J, 15N], Eremophila nivea [Section 15R], near the sundial, is tall with pale grey foliage and mauve flowers.  Telopea speciosissima 'Wirrimbirra White' [Section 15R] has large cream flowers over the large shrub.  Acacia lasiocarpa var. lasiocarpa [Section 15L] is a dwarf spreading wattle with lovely yellow globular flowers attached to the branches, while opposite, Isopogon cuneatus [Section 15P] is radiant with large pinkish terminal floppy flower heads over the medium size shrub.  In front of the waterfall the white flowered form of Indigofera australis [Section 4] can be seen.
And that's just a few of the beauties …                                                          Barbara Daly.
---
Updated Thursday, 6 November, 2003 by Laura Vallee (laura.vallee@deh.gov.au)
---