Australian National
Botanic Gardens

In Flower This Week

A weekly news-sheet prepared by a Gardens volunteer.
Numbers in brackets [ ] refer to garden bed 'Sections'. Plants in flower are in bold type.
3 October 2003
This is a stroll along the Main Path, bounding with perfume, colour, variety and tranquility passing by, maybe, a family of chattering Choughs or tiny blue Fairywrens darting across the leaf litter or a flight over of yellow tailed black cockatoos. 
Commencing at the far end of the Café building, Hardenbergia violacea [Section 12] trails its stems of purple pea-shaped flowers and a Geraldton Wax, Chamelaucium uncinatum 'Purple Pride' [Section 12] stands erect with shades of deep pink wax flowers.  An emubush, Eremophila nivea [Section 302] displays its mauve bugle flowers amid the grey foliage and in the bed of daisies, Rhodanthe anthemoides 'Chamomile Cascade' [Section 303] covers the dense cushion plants with soft white daisies. Homoranthus sp. [Section 30] is a low shrub with lateral branches covered with erect clusters of yellow flowers.  Isopogon formosus var. formosus [Section 30] displays its prominent fuschsia-coloured flowers and Dryandra praemorsa var. praemorsa [Section 30] is equally prominent with yellow flowers.  The backdrop is Grevillea flexuosa [Section 30 and 26] with arching branches terminating with yellow candle-like flowers.
The path winds through many grevilleas which include Grevillea lavandulacea 'Tanunda' [Section 30] with cherry-red flowers bright against the grey-green foliage and Grevillea longifolia [Section 27] with long narrow leaves and deep pink toothbrush flowers.  See the small Banksia baueri [Section 27] with woolly grey flower spikes.  Grevillea corrugata [Section 26] has long lateral branches with loose white flowers.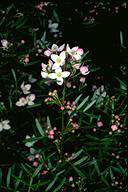 Boronia muelleri 'Sunset Serenade' - click for larger image
Crossing the road, Boronia muelleri 'Sunset Serenade' [Section 112] has a covering of pink buds and mottled pink flowers over a neat shrub. Philotheca, (formerly Eriostemon) myoporoides subsp. acutus [Section 112] is a large shrub covered with white star-flowers.  Entering the area of Sydney Region flora, Boronia fraseri [Section 191h] has bright pink flowers. Indigofera australis [Section 191s] with sprays of purple pea-flowers blends with the yellow flowers of Phebalium squamulosum subsp. lineare [Section 191s].  At the look-out, Prostanthera rugosa [Sections 191s, j] has long arching branches clad with purple flowers.  The soft fluffy yellow flower clusters are those of Pomaderris ferruginea [Section 191s] and the prominent white daisies are Helichrysum 'Helping Hand' [Sections 191p]. Towards the exit of this area, Hibbertia saligna [Section 191 l] exhibits its bright yellow open flowers, and the River Rose, Bauera rubioides [Section 191m] bears pink downturned cup-shaped flowers over a low shrub.
Crossing the Eucalypt Lawn to a section of wattles where Acacia fimbriata [Section 18] with long angular branches with soft fluffy yellow flowers trail the ground and Acacia 'Green Mist' [Section 18] conceals its cream flower-balls with low arching foliage.
The  Rock Garden includes the soft pink daisies of Rhodanthe chlorocephala subsp. rosea [Section 15R] and Olearia phlogopappa [Section 4] tall with white daisy heads.
And so through the cooling Rainforest, so green, so peaceful.
Just a few beauties along the Main Path…                                                     Barbara Daly.
---
Updated Thursday, 2 October, 2003 by Laura Vallee (laura.vallee@deh.gov.au)
---