Australian National
Botanic Gardens

In Flower This Week

A weekly news-sheet prepared by a Gardens volunteer.
Numbers in brackets [ ] refer to garden bed 'Sections'. Plants in flower are in bold type.
26 September 2003
View the colours and forms of plants in the beds bordering Banks Walk then venture up to another area with plants that have different colours and forms … and non-stop flowers along the way. The area you will visit today mainly displays the Rutaceae family, including zierias (mostly white), phebaliums (mostly white), philothecas (almost white), and boronias (many shades of pink). The birds, and their songs, are an extra delight.
So, following the marked route, notice Grevillea 'White Wings' [Section 124], bearing white perfumed flowers over a large shrub, whilst further up Doryphora sassafras [Section 140] is a fine tree with tapered toothed leaves and masses of white five-petalled flowers. Pass by the very colourful Grevillea thelemanniana subsp. indet. [Section 34], a dwarf spreading shrub on the edge of the path displaying its attractive orange-red flowers, while behind Grevillea sericea [Section 34] is taller and shows off its dark cerise flowers.
In this area of bird songs and flowers, Zieria furfuracea [Section 49] is of medium size and just covered with tiny white flowers. Behind, Philotheca myoporoides var. myoporoides [Section 49] is pink with buds opening to white star flowers. Phebalium phylicifolium [Section 48], yet small, is bright with yellow flowers while around the corner Phebalium elatius subsp. beckleri [Section 48] is an open shrub with terminal clusters of white flowers surrounded by narrow glossy leaves. Hardenbergia violacea  [Section 47] extends its vines clad with violet flowers about a tree trunk while Acacia blayana [Section 46], in front, is a tall tree laden with soft yellow flower balls. Asterolasia hexapetala [Section 46], a shrub of medium size, has perfumed open white flowers while behind Zieria formosa [Section 46] is dense with green-grey foliage and tiny pink flowers.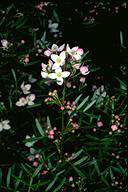 Boronia muelleri 'Sunset Serenade' - click for larger image
Opposite, a colourful group includes Boronia muelleri 'Sunset Serenade' [Section 46], a compact shrub bearing pale pink starry flowers, Phebalium stenophyllum [Section 46], bright with yellow flowers, Philotheca verrucosa [Section 46], with stark white flowers, and Boronia muelleri 'Lorne Pride' [Section 46] with shrubs so bright with pink flowers. Before taking the small path to the right, Boronia deanei [Section 46] is a lone shrub bearing its own shade of pink flowers while, not far away, another grouping reveals Boronia 'Tyalge Ruby' [Section 46], a low dense shrub with arching sprays of deep pink buds maturing to pink-tinted white flowers. Zieria adenophora [Section 46] is unusual because of its dark foliage and tiny white flowers. Phebalium phylicifolium [Section 46] is a taller shrub with yellow flower clusters.
Returning to the small path, Boronia tetrandra [Section 46] is a dwarf shrub with limbs clad with yellow buds maturing to bell-shaped yellow flowers. Boronia microphylla [Section 46] is speckled with pink star flowers while Boronia heterophylla [Section 46] is upright and clad with brown buds maturing to deep red bell-shaped flowers. Zieria littoralis [Section 46] and Zieria formosa [Section 46] are somewhat similar, both with dense green-grey foliage and differing sprays of soft pink flowers. The returning path is lined with Zieria prostrata [Section 46] cushion plants with deep green foliage decorated with tiny pink to white flowers. The return journey is any path downhill.
Another enjoyable section of these glorious Gardens …      Barbara Daly.
---
Updated Thursday, 25 September, 2003 by Laura Vallee (laura.vallee@deh.gov.au)
---