Australian National
Botanic Gardens

In Flower This Week

A weekly news-sheet prepared by a Gardens volunteer.
Numbers in brackets [ ] refer to garden bed 'Sections'. Plants in flower are in bold type.
5 September 2003
Wow! What A Week for Wattles!
A freshly exploded galaxy of Australia's abundantly represented acacias in their many shapes, sizes, shades and scents could take you more than a day to look at one by one in these Gardens.
From the lovely Acacia 'Golden Lace' [Section 226] washing down the top wall in the carpark you could make a bee-line for the very tall, very showy, very fragrant incredible Acacia blayana [Section 77]. Its fine fern-like soft sage foliage seems to support the amazing masses of bright yellow puffs of blossom competing with the sun for brightness; you could probably see it from the moon! After that every other wattle will seem like just another wattle. Like bees, do stop at other flowers on the way and back, including the taxonomic plantings of Mimosaceae, the wattle family, [Sections 1, 2, 3, 18, 46 and 77] which of course are a 'must see' this time of year.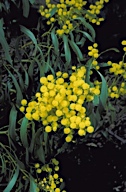 Acacia pycnantha - click for larger image
Note that a new flower spike has just poked its way out of the perfect spherical foliage form of the Xanthorrhoea glauca subsp. angustifolia [Section 175] next to the street light on the corner of the roundabout. Wish Australia's floral emblem Acacia pycnantha [Section 224] a happy 15th birthday as you pass the group along the steps leading to the Visitor Centre. At the top of the next steps dainty Acacia pubescens [Section 172] faces a strong string of Acacia boormannii [Section 210], the Snowy River Wattle, marching down the opposite side of the path in brilliant uniform, with cheeky purple racemes of Hardenbergia comptoniana [Section 210] hitching a piggy-back ride on its solid gold back. On the right and opposite the pond Acacia aphylla [Section 174] stands tall and proud in fine architectural form with its artistic scattering of big flower balls.
Walk through the lovely, light wads of fluffy pale blossoms of Acacia melanoxylon [Section 66, 67, 305] over the bridge. Across the café lawn Acacia covenyi [Section 240] will impress you with its silver sword-like foliage highlighted and weighted down by the branchlets of flowers at the tips.
Choose your route to Section 77, perhaps via the Western Mallee [Section 100]. The boarded walk entered clockwise left to right, has interesting surprises. The Royal Hakea, Hakea victoria [Section 100] hides its insignificant white flower within its really tough, very spiky foliage which has started to turn the brilliant sunset/autumn/fire colours for which it is so well known. The gorgeous small silver-green rosettes of low foliage of Banksia epica [section 100] are dotted with flower cones of all ages. Across the boards is Grevillea centristigma [Section 100] with its unusual soft bewhiskered leaves and spectacular orange/red and soft orange/dark yellow bunches of small tubular flowers – is that a grevillea?!  The soft dark green long foliage of the slender small bush, Eremophilla oldfieldii subsp. angustifolia [Section 100] a bit further along the boardwalk has a sprinkling of lime green long-petalled flowers.
Along the way to Section 77 you will be stopped in your tracks and distracted from your mission by Hakea bakeriana [Section 75] in full bloom – what a sight!  Heavy chunky clusters of pale pinks to cream clamber along its branches among the odd old seedcases. Enjoy!
Sally and Trish
---
Updated Friday, 5 September, 2003 by Laura Vallee (laura.vallee@deh.gov.au)
---