Australian National
Botanic Gardens

In Flower This Week

A weekly news-sheet prepared by a Gardens volunteer.
Numbers in brackets [ ] refer to garden bed 'Sections'. Plants in flower are in bold type.
8 August 2003
This walk will include a variety of flowers and, alas, numerous plants which have been affected by the recent heavy frosts. Many wattles in the Gardens, and elsewhere in Canberra, are already covered with their yellow flowers or full of buds ready to explode. Acacia boormanii [Section 210], seen above Banks Walk, is yellow with buds and the first of its soft fluffy yellow flowers. Banksia 'Birthday Candles' [Section 170], hidden below the prostrate branches of a eucalypt, continues to provide golden cylindrical flower spikes on a dwarf shrub.
Walking on the far side of the Rainforest, Indigofera australis [Section 115] bears sprays of purple pea flowers above the blue-grey foliage. Edging the Brittle Gum Lawn, Banksia 'Giant Candles' [Section 107] is a slim upright shrub with long golden flower spikes, while, on the opposite side, Banksia spinulosa var. spinulosa [Section 109] is a dense rounded shrub with shorter gold flower spikes and dull red styles. Farther up the hill, the triangular bed contains Alyogyne huegelii 'West Coast Gem' [Section 17], a taller shrub than those surrounding it and crowned with deep purple hibiscus-like flowers. The yellow straw daisies are Bracteantha species. Chamelaucium 'Cascade Brook' [Section 17] is an open shrub laden with buds and with mottled pink wax flowers while Grevillea alpina [Section 17], of similar size, has short hairy leaves and mostly singular pale yellow flowers. At the opposite corner edging the Rainforest, Acmena smithii [Section 140] is a dense shrub covered with deep pink fruits. Crowea 'Festival' [Section 123] is a small shrub brilliant with open star-like deep pink flowers.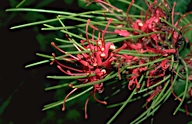 Hakea purpurea - click for larger image
From this road numerous wattles can be seen, including Acacia leucoclada [Section 120] with soft grey-green foliage and yellow fluffy flower balls on the medium size tree. Acacia kybeanensis [Section 3] is just exploding into yellow flower heads while a Cootamundra Wattle, Acacia baileyana var. purpurea [Section 3], is a tall dense shrub magnificent with soft golden flower balls mixing with the blue-green foliage. The new growth of this shrub is purple. Opposite, the Rock Garden has many flowers including Grevillea lavandulacea [Section 15H] with scarlet flowers mixed with its grey-green foliage.
Down the steps at the far end of the Rock Garden, the well-named Cauliflower Hakea, Hakea corymbosa [Section 20], is a dense rounded shrub with greenish-yellow flowers mixed with the sharp foliage. Alongside, Hakea purpurea [Section 20] has scarlet flowers over an upright woody plant. At the lower edge of this section Hakea sericea [Section 21] is an old shrub well covered with old fruits but also with soft pink lacey flowers. Grevillea ripicola [Section 21, 24] is a dense, fairly low spreading shrub with sharp lobed leaves and lime and red flowers. Grevillea flexuosa [Section 26] is dense with terminal cigar-shaped yellow flowers. Dryandra squarrosa [Section 26] is a small upright shrub with globular yellow flower heads.
Returning, Grevillea 'Pink Pixie' [Section 28] edging the road, is a small spreading plant covered with pink flowers and Micromyrtus ciliata [Section 9] is also low-growing with long arching branches covered with burgundy coloured buds and few tiny white flowers.
Great walking, many flowers …                                                          Barbara Daly.
---
Updated Thursday, 14 August, 2003 by Laura Vallee (laura.vallee@deh.gov.au)
---