Australian National
Botanic Gardens

In Flower This Week

A weekly news-sheet prepared by a Gardens volunteer.
Numbers in brackets [ ] refer to garden bed 'Sections'. Plants in flower are in bold type.
4 July 2003
Grevilleas are just bursting into flower, like so many other beauties to be seen along the Main Path. So start at the far end of the Café building, where there is a grouping of Crowea 'Cooper's Hybrid' [Section 240] with a mass of warm pink star flowers and Acacia alata [Section 240], with a spreading habit, is massed with fluffy cream flower balls along its flat angular stems.
Melaleuca fulgens 'Hot Pink' [Section 10], although rather woody, continues to bear its bottlebrush-like flowers coloured rich pink dotted with gold. Eremophila microtheca [Section 302] is an upright many-branched plant bearing small mauve bugle-shaped flowers while Eremophila goodwinii [Section 302] has larger mauve flowers on a small attractive shrub. Edging the path, Hardenbergia violacea [Section 303] is a dense ground-clinging vine revealing the first of its deep violet pea-flowers.
Possum banksias, Banksia baueri [Sections 30, 27], although still small shrubs, have almost round woolly greyish flower spikes. Eriostemon 'J. Semmens' [Section 30] is a shrub of many branches laden with pink buds and white double-petalled flowers. Behind, Banksia ericifolia var. ericifolia [Section 30] is quite large and bears many long cylindrical golden flower spikes. Grevillea petrophiloides subsp. petrophiloides [Section 30] bears its pink poker-like flowers on the tips of long arching stems while Grevillea floribunda subsp. floribunda [Section 27] is laden with pendent rust-coloured slim flower clusters on a small shrub. Across the road the many grevilleas include Grevillea paniculata [Section 26], a sprawling open shrub with fine sharp three-pointed leaves and white flowers in profusion along the branches.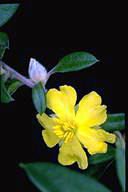 Hibbertia saligna - click for larger image
Crossing the next road, Boronia muelleri 'Sunset Serenade' [Section 112] is a neat rounded shrub with pale pink four-petalled star flowers and Crowea exalata [Section 112] is of more upright stature with deeper pink and much larger five-petalled flowers. Phebalium stenophyllum [Section 112] has bright yellow flower clusters on the small plant. The path then curves through the Sydney Region Gully where Grevillea baueri subsp. asperula [Section 191S] is dense with tight red buds and some open red and cream spider flowers. Epacris calvertiana var. calvertiana [Section 191J] has upright branches white with small tubular flowers. Epacris reclinata [Section 191M] is a dwarf shrub covered with white-mouthed pink flowers. Hibbertia saligna [Section 191L] has vivid yellow open flowers which brighten this small shrub.
Across the Eucalypt Lawn, wattles include Acacia flexifolia [Section 19] and Acacia consobrina [Section 18], both low spreading plants with their own shades of yellow flower balls. Hakea obtusa [Section 20] is of medium size with warm red globular flowers on the old wood. The Rock Garden is a haven of flowering plants including Dampiera juncea [Section 15R], a prostrate plant with blue flowers, and Guichenotia ledifolia [Section 4], a small shrub with cup-shaped, downturned pink flowers blending with the green-grey foliage. The path then passes through the crisp green Rainforest.
Only a few of the many flowers along this path…                              Barbara Daly.
---
Updated Thursday, 3 July, 2003 by Laura Vallee (laura.vallee@deh.gov.au)
---