Australian National
Botanic Gardens

In Flower This Week

A weekly news-sheet prepared by a Gardens volunteer.
Numbers in brackets [ ] refer to garden bed 'Sections'. Plants in flower are in bold type.
13 June 2003
Beside the steps leading to the Visitor Centre the dark red female flowers, sharing the branches with many cones, on the Allocasuarina thalassoscopica [Section 172] have a warming effect on this cold sunny day. Edging Banks Walk, shared with the small Superb Blue Wrens, Woollsia pungens [Section 174] has upright stems clad with white flower clusters and short prickly leaves. Epacris impressa [Section 174] has deep pink tubular flowers hanging loosely from the disorderly stems.
Towards the end of the Café building there is a group of Crowea 'Cooper's Hybrid' cultivars [Section 240] clad with pink star flowers and Crowea 'Pink Blush' [Section 240] with pink-tinted white flowers mixing with its deep pink buds. Acacia alata [Section 240] is an unusual low spreading shrub with flattened angular stems dotted with cream fluffy flower balls.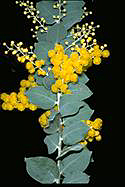 Acacia podalyriifolia - click for larger image
Thryptomene saxicola 'Pink Lace' [Section 10] is a small spreading shrub well covered with tiny pink flowers. Opposite, Grevillea 'Scarlet Sprite' [Section 119] is a rounded dense shrub bright with an increasing number of scarlet flowers. Correa pulchella 'Pink Mist' [Section 119] is a small upright shrub with pendent soft pink tubular flowers. The Queensland Silver Wattle, Acacia podalyriifolia [Section 119], is a small tree clad with silver-grey foliage and soft yellow flower clusters. Melaleuca fulgens 'Hot Pink' [Section 11] is a rather woody shrub beautified with a scattering of rich pink bottlebrush-like flowers.
Continuing along the Main Path, Banksia baueri [Section 30,27], still a small shrub, has large woolly grey flower spikes with possibly a tinge of mauve. Crossing the road, Banksia penicillata [Section 26] is a large shrub with brownish-green flower spikes mixed with spent grey spikes. The nectar of the fresh flower spikes is favoured by the colourful New Holland Honeyeaters. Nearby Grevillea dielsiana [Section 26] is a small open plant illuminated with orange-red flowers. Grevillea irrasa subsp. didymochiton [Section 26] is a dense medium-sized shrub with red flowers scattered amid the soft velvety foliage. Opposite, Grevillea rosmarinifolia [Section 24] has many red buds and a few spider flowers over the small shrub. Grevillea paniculata [Section 24] is an open upright shrub with lateral branches bearing clusters of cream flowers and sharply pointed divided leaves. Hakea orthorrhyncha var. filiformis [Section 21] has long wandering branches along which bright red flower clusters are most conspicuous. The terminal leaves are long and fine.
Across the road, Phebalium nottii [Section 112] is a small neat shrub with pink open-petalled flowers scattered among the dark green foliage. In the opposite corner, Crowea saligna [Section 191H] is covered with bright pink star flowers. Grevillea rhyolitica subsp. rhyolitica [Section 191H], of similar size, has pendent orange-red spider flowers.  Banksia ericifolia var. ericifolia [Section 191H] has rich gold flower spikes amid its short fine leaves.
Returning along the Main Path, the Rock Garden has much to offer.
Such plant varieties … such colour …                                          Barbara Daly.
---
Updated Friday, 13 June, 2003 by Laura Vallee (laura.vallee@deh.gov.au)
---