Australian National
Botanic Gardens

In Flower This Week

A weekly news-sheet prepared by a Gardens volunteer.
Numbers in brackets [ ] refer to garden bed 'Sections'. Plants in flower are in bold type.
30 May 2003
This walk will include a selection of flowers along the Main Path, starting at the end of the Café building. Leptospermum squarrosum [Section 12] is clad with open peach-blossom pink flowers along the terminal branches while a bottlebrush, Callistemon citrinus [Section 11], covers its canopy with red flowers. A cultivar, Melaleuca fulgens 'Hot Pink' [Section 10] also bears bottlebrush-like flowers coloured rich pink dotted with gold. An emu-bush, Eremophila goodwinii [Section 302], is a small shrub bearing attractive lilac coloured bugle-shaped flowers.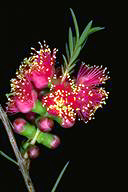 Melaleuca fulgens 'Hot Pink' - click for larger image
Possum Banksias, Banksia baueri [Section 30, 27], still small shrubs, have interesting grey woolly, almost round, flower spikes. Eriostemon 'J. Semmens' [Section 30] is quite a wiry shrub laden with pink buds maturing to white, double-petalled flowers. Grevillea flexuosa [Section 30] is upright with long lateral branches bearing large divided leaves and cigar-shaped lemon flower heads. Banksia 'Birthday Candles' [Section 30] is a dwarf spreading shrub illuminated with upright gold cylindrical flower spikes. Still small, Banksia spinulosa var. spinulosa [Section 27] has gold flower spikes and Grevillea floribunda [Section 27], also small, dangles its slim rust-coloured flower clusters from its branches. Crossing the road, Grevillea tripartita subsp. macrostylis [Section 26] is a slim upright plant bearing red and yellow flowers. At the end of this section turn along the upper path to view Hakea orthorrhyncha subsp. filiformis [Section 21] with the old wood of a few lateral branches encased in bright red lacey flowers.
Crossing the road, Boronia muelleri 'Sunset Serenade' [Section 112] is a neat round shrub with pale pink four-petalled star flowers. Crowea exalata [Section 112] is an upright shrub with deeper pink five-petalled flowers. Follow the path through the Sydney Region Gully to find Native Blackthorn or Tasmanian Christmas Bush, Bursaria spinosa var. spinosa [Section 191S], seen in the gully, a tall, slim shrub massed with small white flowers. Edging the path, Scaevola ramosissima var. ramosissima [Section 191H] has vivid purple fan flowers on the dense prostrate plant. Opposite the lookout, Dampiera stricta [Section 191P] has blue flowers on the upright stems of the suckering plant and Epacris impressa [Section 191P] has small red or pink tubular flowers along the wiry upright branches. Towards the top loop, Hibbertia saligna [Section 191L] is a small shrub bright with yellow open flowers. The display bed contains a late flowering Christmas Bell, Blandfordia grandiflora [Section 191U], with fine strappy leaves and a stem crowned with large yellow bell-shaped flowers. 
Cross the Eucalypt Lawn to a group of wattles where Acacia flexifolia [Section 18] is a small dense shrub abundant with aromatic yellow fluffy flower heads. Across the road, Hakea laurina [Section 20] is picturesque with many maroon flower balls. The Rock Garden has an abundance of flowers including Eremophila nivea [Section 15N], with mauve tubular flowers scattered about the soft grey foliage, and Dampiera linearis [Section 15D], with deep blue flowers on the small upright plant. The walk through the cool green Rainforest Gully is always pleasant. Then down the ramp where Eremophila maculata [Section 210] reveals its bright yellow flowers and Alyogyne 'West Coast Gem' [Section 210] displays its purple hibiscus flowers on a taller shrub.
Flowers, flowers, beautiful flowers …                                       Barbara Daly.
---
Updated Thursday, 29 May, 2003 by Laura Vallee (laura.vallee@deh.gov.au)
---