Australian National
Botanic Gardens

In Flower This Week

A weekly news-sheet prepared by a Gardens volunteer.
Numbers in brackets [ ] refer to garden bed 'Sections'. Plants in flower are in bold type.
23 May 2003
The colourful beds edging Banks Walk include Woollsia pungens [Section 174] with upright stems wrapped with white flowers and short prickly leaves. Grevillea dielsiana [Section 174, 37] has numerous upright branches with interesting fine three-pronged leaves and sparkling orange-lemon flower clusters. In the small bed at the entrance to the Café, Derwentia arenaria [Section 305] is a low, many-stemmed plant bearing blue, almost purple, flowers.
Many grevilleas are in flower now, including cultivar Grevillea rosmarinifolia 'Rosy Posy' [Section 182] with spider-like pink and yellow flowers mixed with soft needle foliage. Grevillea 'Coconut Ice' [Section 124] is another cultivar with large divided leaves and large terminal pink flower sprays with many more to follow. Banksia 'Giant Candles' [Section 107], edging the Brittle Gum Lawn, is a slim upright shrub displaying its long cylindrical yellow, changing to gold, flower spikes. On the other side of this lawn, Banksia spinulosa var. spinulosa [Section 110] is a medium rounded shrub laden with gold flower spikes with reddish styles.
Farther up the hill, at the top corner of the bed to the right, Callistemon rugulosus [Section 78] is a large shrub with cherry red bottlebrush flowers dusted with gold. The small triangular bed contains Chamelaucium 'Cascade Brook' [Section 17] with dainty pink wax-like flowers over this open plant. Epacris calvertiana var. calvertiana [Section 17] has small tubular white flowers along its upright branches. Overlooking these plants is Alyogyne huegelii 'Westcoast Gem' [Section 17] resplendent with purple hibiscus flowers. The bed is bright with the yellow straw flowers of Bracteantha species [Section 17]. At the diagonal corner a Lilly Pilly, Acmena smithii [Section 140], is a small rounded dense tree with shiny green foliage abounding with sprays of pink fruits which followed its white flowers. The opposite corner has a dense planting of Crowea 'Festival' [Section 123] bright with cheery pink star flowers. The dead tree stumps in this area are a reminder of the devastation caused by the Armillaria root rot fungus. Read the signs for more information about this disease.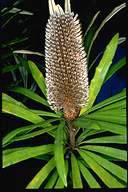 Banksia plagiocarpa - click for larger image
Continue up the road alongside the Rainforest Gully and turn right at the next steps to find Banksia oblongifolia [Section 36], a low open shrub abundant with green flower spikes. Behind, Banksia ericifolia var. ericifolia [Section 36] displays its rich gold flower spikes all over quite a tall tree. Banksia media [Section 36] is old with a misshapen trunk but lovely with creamy-ochre plump flower spikes and a waratah, Telopea mongaensis [Section 36], has a few out-of-season red flowers.
Below the shelter, emu bushes include Eremophila maculata [Section 121], with red bugle flowers with dotted throats in a dense small shrub, and Eremophila glabra [Section 121], mingling its finer red tubular flowers with the grey foliage. Around the shelter are numerous banksia species, including Banksia plagiocarpa [Section 37] with small slim flower spikes coloured a bluish-grey on a slim upright shrub…quite interesting.       
Such floral wonders enjoyed by birds and people alike …                    Barbara Daly.
---
Updated Friday, 23 May, 2003 by Laura Vallee (laura.vallee@deh.gov.au)
---