Australian National
Botanic Gardens

In Flower This Week

A weekly news-sheet prepared by a Gardens volunteer.
Numbers in brackets [ ] refer to garden bed 'Sections'. Plants in flower are in bold type.
16 May 2003
Beside the steps leading to the Visitor Centre, Allocasuarina thalassoscopica [Section 172] is a tall slender shrub bearing many cones and dark red female flower spikes. On the other side of the path, Hakea 'Burrendong Beauty' [Section 221] is a semi-prostrate plant with long lateral limbs bearing pink globular flowers. Just now hakeas, banksias and callistemons are some of the many flowering plants in the Gardens. Grevillea dielsiana [Section 174], seen along Banks Walk, is an open upright spiky shrub with orange-yellow pendulous flower clusters.
Crossing the bridge over the Rainforest Gully the perfume of Notelaea ligustrina [Section 66], with branches of small white flowers arching over the path, pervades the environment. In front of the Café building a grouping of Crowea 'Cooper's Hybrid' [Section 240] is resplendent with pink star flowers while Crowea 'Pink Blush' [Section 240] shows off its deep pink buds which mature to white flowers with a dash of pink.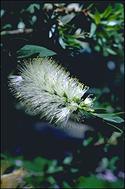 Callistemon 'White Anzac' - click for larger image
Thryptomene saxicola 'Pink Lace' [Section 10] has a canopy of tiny pink flowers covering its low lateral branches while, opposite, Correa pulchella 'Pink Mist' [Section 119] dangles its pink tubular flowers from the upright branches of the small shrub. In front the dwarf shrub Correa 'Maroondah Tricolor' [Section 119] has tubular flowers coloured red, yellow and green. Callistemon citrinus [Section 9, 10] is large and dense with red bottlebrush flowers in profusion.  Eriostemon 'J. Semmens' [Section 30] is a small wiry plant with pink buds maturing to interesting white double-petalled flowers. Callistemon 'Reeve's Pink' [Section 30] is only one of many cultivars here. Around the corner others include Callistemon 'Red Clusters' [Section 30], with vivid red bottlebrushes, and Callistemon 'White Anzac' [Section 30], with snowy white bottlebrushes over a low sprawling plant.
The next area includes Banksia baueri [Section 27], as yet a small shrub, with large woolly grey flower spikes with a tinge of mauve. Grevillea floribunda subsp. floribunda [Section 27] is also a small shrub with rust-coloured pendent flowers. Another area includes Hakea clavata [Section 26], decorated with small globular clusters of white flowers, and Grevillea tripartita subsp. macrostylis [Section 26], with yellow-red flowers mixing with prickly leaves on the upright shrub. Rounding the next corner, the pink-flowering Correa alba [Section 112] is a dense shrub laden with its lovely star flowers. There are two other callistemons along this road—Callistemon 'Country Sprite' [Section 195] has a showering of soft pink bottlebrushes over a medium shrub and Callistemon 'Glasshouse Gem' [Section 195] has pink flowers tipped with white. 
Returning, a Gippsland Waratah, Telopea oreades [Section 28], is flowering out of season and displays a few red flower heads. Nearby Grevillea newbeyi [Section 28] presents as a small plant with long lateral stems covered with sharp foliage and interesting flowers containing long red curved styles and a yellow pollen presenter. Leptospermum squarrosum [Section 12] is quite a picture with terminal limbs encased with pink open-petalled flowers.
So many flowers to admire …                                                          Barbara Daly
---
Updated Thursday, 21 January, 2016 by Laura Vallee (laura.vallee@deh.gov.au)
---