Australian National
Botanic Gardens

In Flower This Week

A weekly news-sheet prepared by a Gardens volunteer.
Numbers in brackets [ ] refer to garden bed 'Sections'. Plants in flower are in bold type.
25 April 2003
At the base of the stairs, in front of the Visitor Centre, Hakea crassinervia (Syn. Hakea 'Burrendong Beauty') [Section 221] is a semi-prostrate shrub, its sprawling branches covered with pink globular flowers. However this walk is following the Main Path and commences at the far end of the Café building.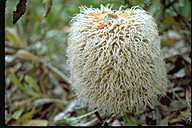 Banksia baueri - click for larger image
On a side path to your right, Callistemon citrinus [Section 9] is a large shrub bright with red bottlebrush flowers. The dwarf plant, Banksia 'Birthday Candles' [Section 30] is alight with upturned cylindrical flower spikes, coloured gold with red styles. Grevillea alpina (Goldfields form) [Section 30] has orange, often single flowers over a fairly dense shrub. A small, Banksia spinulosa var. spinulosa [Section 27] has gold flower spikes and the small Possum Banksia Banksia baueri [Section 27] displays its furry greyish flower spikes. Grevillea floribunda [Section 27] daintly hangs its rust colouored flower clusters from small branches and Grevillea lanigera [Section 25] is well covered with pink and cream spider flowers along its prostrate branches.
Across the road, Hakea cycloptera [Section 24] is of medium size with fine leaves and small lacy pink flowers crowding the terminal branches. Other dwarf shrubs seen here include Grevillea pityophylla [Section 26] with needle-like foliage and soft pink flowers. Behind these, Hakea clavata [Section 26] has narrow, oblong leaves and powder pink flower clusters. Across the road Boronia muelleri 'Sunset Serenade' [Section 112] is a neat small shrub, well covered with pale pink four-petalled flowers. Crowea exalata [Section 112] is bright with deep pink five-petalled flowers that cover this taller shrub.
Following the winding path through the Sydney Region Flora, Bursaria spinosa var. spinosa [Section 191S], known as the Tasmanian Christmas Bush, is a tall slim shrub shrouded with white flowers. Edging the path, Scaevola ramosissima var. ramosissima [Section 191H] is a dense prostrate plant, vivid with purple fan flowers. Opposite the lookout, Epacris impressa [Section 191P] has long wiry branches with small red, or pink, tubular flowers. The blue flowers on upright stems are of the suckering Dampiera stricta [Section 191P]. The top display garden contains Hibbertia peduncularis [Section 191U] a dense ground cover, dotted with bright yellow flowers and Crowea saligna [Section 191U] laden with waxy pink star-flowers. Luckily, a Christmas Bell, Blandfordia grandiflora [Section191U] still bears a few large yellow bell-flowers on top of its erect stem.
Cross the Eucalypt Lawn and head down to Hakea laurina, [Section 20] a tall shrub crowned with maroon flower balls. Opposite, Hakea drupacea [Section 20] has small clusters of white lacy flowers. The Rock Garden is home to many colourful plants including Diplopeltis huegelii [Section 15N] with small pink open-petalled flowers on upright stems and Goodenia sp. [Section 15N] with yellow flowers along the trailing stems. Continue through the relaxing Rainforest Gully and down the ramp past other flowers.
Such a wonderful garden of Aussie flowers …                               Barbara Daly
---
Updated Friday, 2 May, 2003 by Jan Wilson (jan@anbg.gov.au)
---