Australian National
Botanic Gardens

In Flower This Week

A weekly news-sheet prepared by a Gardens volunteer.
Numbers in brackets [ ] refer to garden bed 'Sections'. Plants in flower are in bold type.
18 April 2003
This walk, although not long, has a variety of colourful flowers to admire. Alyogyne 'West Coast Gem' [Section 210] displays its purple hibiscus flowers atop a medium size shrub, while, at the end of Banks Walk, Solanum sturtianum [Section 174] is a small upright plant with yellow-centred purple flowers mingling with the soft grey foliage. Scaevola 'New Blue' [Section 174], seen along the lower border, continues to produce its brilliant blue fan flowers along the prostrate stems. Cross the Rainforest Gully by the bridge and walk under the spreading branches of Notelaea ligustrina [Section 66], covered with white buds and small perfumed white star flowers.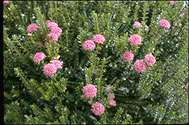 Pimelea ferruginea - click for larger image
In front of the Café, Pimelea ferruginea [Section 244] is a small shrub with shining leaves neatly arranged along the upright stems, which are tipped with rounded clusters of tiny pink flowers. Croweas along this path include Crowea 'Southern Stars' [Section 240], with small fine petals, and Crowea 'Coopers Hybrid' [Section 240], with larger pink flowers. Banksia integrifolia var. integrifolia [Section 240] is dense and prostrate with upright cylindrical lemon flower spikes while, in the diagonal corner, Banksia 'Giant Candles' [Section 143] is a large rambling shrub exhibiting elongated slim golden flower spikes. At its base, Correa 'Dusky Bells' [Section 143] is a low shrub displaying its red tubular bell flowers amid dense foliage. Crowea 'Pink Blush' [Section 240] is a small open shrub well covered with pink buds and pink, almost white, star flowers. Walking uphill, Callistemon 'Splendens' [Section 10] is of medium size showing off its bright red bottlebrush flowers. Nearby Micromyrtus leptocalyx [Section 10] is a small shrub with tiny cream flowers hugging its erect branches. Thryptomene saxicola 'Pink Lace' [Section 10], under the mottled grey limbs of the lovely Eucalyptus mannifera [Section 10], has tiny pink flowers hugging its low, lateral branches.
This bed contains many emu bushes, so, taking the small path past the Queensland Bottle Tree, Brachychiton rupestris [Section 302], with its fat bottle trunk, find Eremophila strongylophylla [Section 302], low and spreading with deep purple bugle flowers. Around the corner, Eremophila maculata subsp. brevifolia [Section 302] is a small rounded shrub with claret-coloured tubular flowers scattered among the dark foliage. Behind, Eremophila youngii [Section 302] has dusky pink flowers among its grey-green foliage and nearby, Eremophila laanii [Section 302] shows off its soft pink flowers.
Correa alba var. alba [Section 107] is dense and spreading with white star flowers blending with its silver-backed leaves. This path leads on to the Rock Garden, laden with colourful plants, but turn left here towards the Brittle Gum Lawn. Grevillea 'Robyn Gordon' [Section 110] is a low shrub with long lateral branches decorated with deep red flowers in large pendent sprays. Here too is Eucryphia jinksii [Section 110], an upright shrub bearing open-petalled white flowers. Edging the road, Banksia spinulosa var. spinulosa [Section 110] displays its gold flower spikes ribbed with red styles and hopping about the leaf litter are the small Superb Fairy Wrens and on a branch a friendly Yellow Robin.
Some place, these Gardens …                                                      Barbara Daly.                             
---
Updated Thursday, 15 May, 2003 by Jan Wilson (jan@anbg.gov.au)
---