Australian National
Botanic Gardens

In Flower This Week

A weekly news-sheet prepared by a Gardens volunteer.
Numbers in brackets [ ] refer to garden bed 'Sections'. Plants in flower are in bold type.
14 March 2003
'Tis Seniors Week and the Rock Garden has been selected this week. Note that the new section of the Rock Garden was described last week so it would be an advantage to obtain that sheet as well.
The Darling Lily, Crinum flaccidum [Section 15C], is still producing large trumpet-like white flowers on long upright stems amid the long floppy leaves, Grevillea 'Poorinda Royal Mantle' [Section 15D] flows down the slope like a carpet of green with red toothbrush-like flowers and Correa 'Ivory Bells' [Section 15D] is a dense shrub bearing many tubular flowers amid the dark green foliage. Quite close is a dwarf shrub, Banksia spinulosa 'Honeypots' [Section 15D], with an array of honey-coloured small cylindrical flower spikes, very attractive to birds, on the longer lateral branches. Chrysocephalum semiamplexicaula [Section 15D], rather flattened by the rain, glows with small heads of orange and yellow flowers.
Hypocalymma xanthopetalum [Section 15F], nestled between rocks, has yellow feathery flowers along the branches of this dwarf shrub. Round the corner the flowers of Lomandra leucocephala subsp. robusta [Section 15F], although not very colourful, are interesting, as they are cream and woolly and in dense clusters along the stems of this tufted grass-like plant. Scattered over this area, Derwentia arenaria [Section 15G] has sprays of deep blue flowers, and the floral emblem of South Australia, Sturt's Desert Pea, Swainsona formosa [Section 15G], is radiant with its large red pea flowers – but alas! The welcome rains have damaged some flowers. Brachycome multifida [Sections 15A, 15B, and elsewhere] are low-growing plants with soft green foliage and small mauve daisies which add colour to any area.
Bordering the top road, the large Grevillea 'Masons Hybrid' [Section 15H] is laden with bright pink conical flower spikes – another favourite of the nectar loving birds. Hibbertia kaputarensis [Section 15A] almost always has a show of large yellow flowers on this small shrub. Acacia subulata [Section 3], a wattle across the road, is still a small tree with fine needle foliage mingling with the soft yellow flower balls. Scaevola albida var. albida [Section 15H] is low and spreading with white fan flowers and Dampiera sylvestris  [Section 15H] is a suckering herb covered with brilliant blue flowers.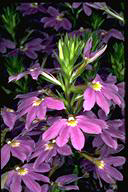 Scaevola 'New Blue'
click for larger image
Accompanying the grass tree, Xanthorrhoea johnsonii [Section 15J], Artanema fimbriatum [Section 15J] is a small plant with blue and white bugle flowers. Lechenaultia biloba [Section 15J] has soft blue flowers and Scaevola 'New Blue' [Section 15J, 15T, 15R], a prostrate plant, is stunning with its deep blue flowers.
Banksia integrifolia var. integrifolia [Section 15L], with many cream flower spikes, lies prostrate over rock and path. Over the path, Eucalyptus lansdowneana subsp. lansdowneana [Section 15R], yet young with long slim trunks, has clusters of red fluffy flowers mixed with the greenery on the arching branches. The dwarf Verticordia blepharophylla [Section 15R] is pretty with clusters of pink flowers along its branches.
And so many more to find…                                                   Barbara Daly.
---
Updated Wednesday, 12 March, 2003 by Jan Wilson (jan@anbg.gov.au)
---