Australian National
Botanic Gardens

In Flower This Week

A weekly news-sheet prepared by a Gardens volunteer.
Numbers in brackets [ ] refer to garden bed 'Sections'. Plants in flower are in bold type.
7 March 2003
The flowers seen along Banks Walk are forever colourful. They include an emu bush cultivar, Eremophila 'Murchison Magic' [Section 210] with salmon-coloured curved tubular flowers scattered among the grey foliage and kangaroo paw cultivar Anigozanthos 'Bush Noon' [Section 210] with its greenish yellow 'paw' flowers atop long slender stems. Both these plants have been in flower for some time. Viola hederacea [Section 210], snug between rocks, has many mauve violets and Hibbertia vestita [Section 210], also a ground cover, has yellow open flowers which brighten the dark green foliage.
Departing this area for another colourful spot, for there are many throughout these Gardens, Callistemon 'Howie's Fire Glow' [Section 124] is a small open tree glowing with red bottlebrush flowers. Scaevola albida [Section 124] has a covering of small mauve fan flowers over this ground cover. Around the corner Grevillea 'Scarlet Sprite' [Section 119] is a dense shrub with short needle foliage sprinkled with scarlet spider flowers. Across the path Grevillea 'Robyn Gordon' [Section 124], a smaller open shrub, has terminal sprays of conical red flowers. Towards the Rock Garden Callistemon 'Glasshouse Country' [Section 110], near the center of this bed, displays its pretty pink bottlebrushes from the arching branches.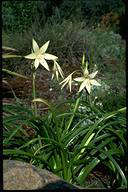 Crinum flaccidum
click for larger image
In the Rock Garden it is worthwhile finding the Murray-Darling Lily, Crinum flaccidum [Section 15C], splendid with white many-petalled flowers in groups on long upright stems, surrounded by long weak leaves. It has been producing flowers for some time. Sturt's Desert Pea, Swainsona formosa [Section 15G], floral emblem of South Australia, is a small compact trailing plant brilliant with its showy large deep red pea flowers with a darker central boss.
The next part of this walk will focus on the new section of the Rock Garden which starts after the grass trees, Xanthorrhoea johnsonii [Section 15N], and is best seen from the top road. Dampiera linearis [Section 15N] is a dwarf spreading herb with deep blue flowers. Solanum sturtianum [Section 15N] is an open upright plant with greenish-grey foliage and deep purple flowers. Scaevolas here include the brilliant cultivar, Scaevola 'New Blue' [Section 15N], with deep blue fan flowers, and the Tangled Fan Flower, Scaevola oxyclona [Section 15N], a small rounded plant with pale mauve flowers mixed with sharp divided leaves. Scaevola canescens [Section 15N] is low and spreading with pale pink flowers. Scaevola phlebopetala [Section 15N] is prostrate with radiating stems carrying deep violet fan flowers with yellow throats. Scaevola brookeana [Section 15N] has pale blue flowers over this upright, many branched, dwarf shrub.
Other plants include a mint bush, Prostanthera cryptandroides [Section 15N], attractive with shades of purple tubular flowers. At the far end find Lechenaultia formosa [Section 15N] with soft foliage and dainty pale blue flowers. Along the lower path a mulla mulla, Ptilotus macrocephalus [Section 15N], shows its soft fluffy pale green, almost white, flower heads on upright stems and Verticordia pennigera [Section 15N] is lovely with soft pink feathery flowers along its stems. 
Such flowers … such colour …                                          Barbara Daly.
---
Updated Wednesday, 5 March, 2003 by Jan Wilson (jan@anbg.gov.au)
---