Australian National
Botanic Gardens

In Flower This Week

A weekly news-sheet prepared by a Gardens volunteer.
Numbers in brackets [ ] refer to garden bed 'Sections'. Plants in flower are in bold type.
17 January 2003
To view colourful plants, walk along Banks Walk where natural forms of kangaroo paws, Anigozanthos flavidus [Section 210] with matt green flowers, and more colourful cultivars, including Anigozanthos 'Bush Sunset' [Section 210] ablaze with deep red flowers, are seen.  Follow the lower path which is edged with the small orange button flowers of Chrysocephalum apiculatum [Section 174] and the small mauve daisies of Brachycome 'Break o'day' [Section 174].  Not to be missed is the Red-flowering Gum, Eucalyptus ficifolia [Section 174]  showing its strikingly large clusters of red flowers.  Across the car-park, towards the Tasmanian area, the NSW Christmas Bush, Ceratopetalum gummiferum [Section142], a medium size tree, is showing some of its well-known reddened calyces which follow on after the tiny white flowers.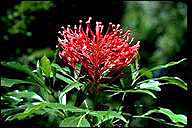 Alloxylon pinnatum - click to enlarge
The Rainforest area is cooler and its interesting flowers will now be explored. Edging this area, on the far side, in an aged fallen trunk, an orchid, Cymbidium suave [Section 125] reveals its long sprays of greenish flowers below the arching slender leaves.  Enter the next narrow path, turning left and then down the stairs to the right to the lower platform, below which is the colorful Stream Lily Helmholtzia glaberrima [Section 144,145], a flax-like plant with long leaves surround the pale pink plume-like flower heads.  Up the bank the large fronds of the tree ferns, Dicksonia antarctica [Section 147] mix with the Spear lily, Dorianthes palmeri [Section 147] with very long arching sword shaped leaves.  From the bridge to the left, dense clusters of small white flowers of the Brown Alder, Caldcluvia paniculosa [Section 147] can be seen high up on the opposite bank. The red open flowers of the Dorrigo Waratah, Alloxylon pinnatum [Section 148] are in sight but seen better above the path towards the upper level.
Returning to the original path, Lomatia myricoides [Section 107] is a small tree with sprays of fine yellow flowers scattered among the leaves.  Hibiscus plants edging the Rainforest include Hibiscus divaricatus [Section 114,104] with bright yellow flowers, Hibiscus heterophylus var. lateus [Section 114,104] with maroon splashes on white flowers and Hibiscus splendens [Section 104] with maroon centred pink flowers.  At the next entry, a Cunjevoi, Alocasia macrorrhia [Section 114] has large heart-shaped leaves on long fleshy stems – the yellow hood-like flower is fading, however another, still green today should be mature in a few days. Close by, a small neat tree, Pseudoweinmannia lachnocarpa [Section 146] has small white hairy flower clusters.
Continuing uphill, at the corner, Gahnia clarkei [Section 78], the Tall Saw-sedge, has long fine narrow leaves among which are sprays of tiny black match-head sized flowers.  The bright pink flowers spikes of Lythrum salicaria [Section 78] harmonise with these plants.  Cross over the gully, taking a narrow path up the stairs on the upper side to view a bed of rhododendrons.  Rhododendron macgregoriae x lochae [Section 62] is a low spreading hybrid shrub laden with lovely bell-shaped bright red flowers arranged in whorls, seen on the right hand slopes … really some sight!
Great walking … and discovery of these grand flowers  …                           Barbara Daly.
---
Updated Monday, 20 January, 2003 by Jan Wilson (jan@anbg.gov.au)
---