Australian National
Botanic Gardens

In Flower This Week

A weekly news-sheet prepared by a Gardens volunteer.
Numbers in brackets [ ] refer to garden bed 'Sections'. Plants in flower are in bold type.
27 December, 2002
There is a wealth of colourful flowers along the Main Path so enjoy them all, continuing past the Café renowned for its super coffee and delectable food. In the center of the bed of colourful daisies is a cluster of kangaroo paws, Anigozanthos flavidus [Section 303] with matt green flowers on long stems and over the path a group of cultivars including Anigozanthos 'Bush Glow' [Section 8] with bright yellow tonings and Anigozanthos 'Bush Sunset' [Section 8] with the brilliant red tonings of our sunsets.
Grevillea petrophiloides [Section 30] is slim and upright, highlighted with pink poker-like flowers on top. Banksia pilostylis [Section 25], behind a sign, is a low dense shrub with deep cream flower spikes amid the spent soft grey spikes. Further along, Banksia speciosa [Section 26] is a young slim shrub with long, narrow toothed leaves displaying its first flower spike coloured grayish-yellow.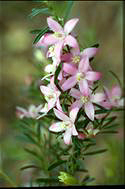 Crowea exalata
Crossing the road, Crowea exalata [Section 112] is a small neat shrub bright with pink star-like flowers. Following the winding path through the Sydney Region Flora section Scaevola ramosissima [Section 191h] edging the path, has mauve fan flowers along its prostrate stems. Grevillea rhyolitica subsp. rhyolitica [Section 191s] dangles its orange- red flowers through its neat foliage. A group of medium size shrubs, Baeckea virgata [Section 191s] has long flowing branches covered with small white flowers. The next colourful area includes Actinotus helianthi 'Federation Stars' [Section191h] with the soft velvety white daisy-like flowers, Thysanotus juncifolius [Section 191h] a Fringe Lily with three-petalled purple flowers on bare upright stems and Dampiera stricta [Section 191h] having blue flowers on upright stems. Xyris gracilis [Section 191g] is a small tufted plant with fine leaves and three-petalled yellow flowers.
To view the Christmas Bells, take the path to the right over the gully and then the narrow path to the left. Set in the Blandfordia Swamp, Blandfordia grandiflora [Section 191c] are also tufted plants with upright bare flower spikes with large splendid red and yellow bell-like flowers … really a great picture. Return to the Main Path.
Continuing along the path, the Blackthorn, also called the Christmas Bush in Tasmania, Bursaria spinosa var. lasiophylla [Section 191e] is a medium size, rather thorny, shrub bearing masses of tiny white flowers. At the exit, Hakea teretifolia [Section 191m] is of medium size with soft needle leaves and small lacy white flowers crowded along the stems. Cross the pleasant Eucalypt Lawn where evening concerts are held, to the Rock Garden with an abundance of flowers. This corner includes the Blue Grass Lily, Agrostocrinum scabrum [Section N] with star-like blue flowers on long bare stems and the soft blue flowers of Lechenaultia biloba [Section N]. In front of the waterfall, Coopernookia barbata [Section 15V] has soft pink flowers on the small shrub.
Pass the caged Wallemi Pine, Wallemia nobilis [Section 110] and a wander through the cool Rainforest where the Victorian Christmas tree, Prostanthera lasianthos [Section 148] covers the area with its white bugle flowers.
Season's Greetings to all… Barbara Daly.
---
Updated Thursday, 26 December, 2002 by Murray Fagg (anbg-info@anbg.gov.au)
---