7 December 2002
'Tis summer…'tis warm…however flowers are still plentiful. So, view those in the Tasmanian Garden where so many seem to be white, with many other colours between. On the way, several dazzling Verticordia species, coloured yellow and pink, can be seen in the pots outside the Visitor Centre doors and, halfway down the steps, the lovely Eucalyptus curtisii [Section 221] with silky streaked trunk drapes its large clusters of white fluffy flowers towards the path.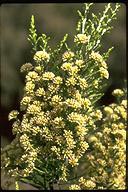 Past the car park to the Tasmanian Garden, where the bright yellow sprays of daisies are those of Senecio linearifolius [Section 142]. A corner of kangaroo paws, Anigozanthos flavidus [Section 171], has a mix of red and green flowers on long slender stems. Scaevola albida [Section 171] is a mounded ground cover dotted with mauve fan flowers. Over the path, Lomatia tinctoria [Section 235] is an open shrub with sprays of white flowers with curving petals. Bedfordia linearis [Section 235] is a rather sprawling plant with attractive white stems and prominent clusters of cream buds. Closer to the pool, self-seeded plants of Bulbine bulbosa [Section 235] display small yellow flowers along upright stems. From here, the Gardens seem to be white with flowers which are mostly species of Ozothamnus, including Ozothamnus hookeri [Section 171], clad with greenish white flower clusters along the stems, Ozothamnus ericifolius [Section 171], with upright stems and smaller flower clusters, and Ozothamnus costatifructus [Section170], a smaller shrub with large creamy flower clusters. Ozothamnus x expansifolius [Section 231] and Ozothamnus ledifolius [Section 231] are similar shrubs in this area.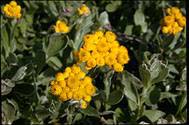 Other flowers are Podocarpus lawrencei [Section 142], a dense, dwarf shrub almost concealing the dull red flowers, edging the path. Olearia myrsinoides [Section 232] has stark white daisies on a rather unruly shrub. On the far south curve, between shrubs, is a group of snow daisies, Celmisia asteliifolia [Section 231], with grey-green foliage and lovely, large white daisies. On the outer circle, Chrysocephalum apiculatum [Section 230] brightens the bank with many clusters of small yellow flower heads. Onion Orchids, Microtis unifolia [Section 233], with small green flowers along short stems, can be seen scattered about this bed. Towards the bridge, dense between the rocks, the long upright stems of the rush Restio australis [Section 238] has a canopy of tan-coloured flowers. Returning, close to the last bridge, a groundcover Velleia montana [Section 232] sparkles with small yellow flowers. This whole area has many native grasses, including the tussock-forming Poa labillardiera [Section 236], with long fine stems bearing plume-like flower heads. Take time to sit and count the many Water Dragons, Physignathus lesueurii howittii, sunning on the rocks, before proceeding to the end of the Café building.
Encircling this garden, see Kunzea ambigua [Section 136] with arching branches clad with small fluffy white flower clusters and Prostanthera lasianthos x phylicifolia [Section 136] with white bugle flowers tinted mauve. Grevillea juniperina [Section 240] is a prostrate plant featuring red spider flowers and opposite, Callistemon 'Baroonda Station' [Section 143] is an upright, graceful shrub bearing pale pink bottlebrush flowers. At the corner, Callistemon viminalis [Section 143] is larger and older with pendulous branches dotted with deep red bottlebrush flowers. Then there is the eye-catching Melaleuca 'Seafoam' [Section 131] covered with frothy white floral sprays.
There's always another flower around the corner… Barbara Daly.