22 November 2002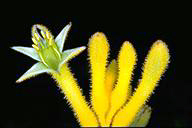 Anigozanthos 'Bush Glow'
click for larger image
Observe the Gippsland Water Dragons, Physignathus lesueurii howittii, seen basking on the rocks near the pools.[Sections 142, 137]. View the flowers along Banks Walk. They include Flannel Flowers, Actinotus helianthi 'Federation Stars' [Section 172], with greyish velvety foliage and large soft daisy-like white flowers. Chrysocephalum apiculatum [Section 174], also with grayish foliage, is topped with clusters of small yellow flowers. Anigozanthos 'Bush Glow' [Section 174] is one of many kangaroo paws now beginning to flower — this one has orange and green 'paw' flowers. Callistemon viridiflorus [Section 66] is an upright shrub bearing lime-coloured bottlebrush flowers.
Edging the Rainforest Gully, Helichrysum 'Helping Hand' [Section 125 and other areas of the Gardens] has white straw daisy flowers mixed with green-grey foliage. Callistemon salignus [Section 126] has many trunks with light papery bark and small pink bottlebrush flowers hanging from the willowy branches. Callistemon 'Harkness' [Section 124] has a dark grooved trunk and bright red bottlebrush flowers — the starling red flowers can be seen in many parts of the Gardens. Grevillea 'Austraflora Bon Accord' [Section 124] is a semi-prostrate plant with fine foliage and deep red flower spikes. Melaleuca spathulata [Section 9], at the corner, is quite densely covered with purplish flower balls.
Taking the upper path, where there are numerous grass trees Xanthorrhoea australis [Section 8], Agrostocrinum scabrum [Section 8] is a tufted plant with short strappy leaves and bright blue star flowers on upright slim stems. Thelionema caespitosum [Section 8] is also a tufted plant with white star flowers and a native iris, Patersonia umbrosa [Section 8], presents its purple, three-petalled flowers. Opposite, emu bushes include Eremophila racemosa [Section 7], with a mix of pink and orange tube flowers over a small shrub, and Eremophila densifolia [Section 7], with very small blue-purple flowers over a prostrate plant. The Gymea Lily, Doryanthes excelsa [Section 8], has large clusters of red flowers on long stems, surrounded by long strappy leaves.
Kunzea ambigua x capitata [Section 30] is a graceful medium-size open shrub decorated with small pink flower balls. Banksia coccinea [Section 30] is slim and upright presenting its crimson and grey striped flower spike. Opposite, Homoranthus prolixus [Section 30] is a dwarf, spreading plant with radiating branches massed with hairy yellow flowers.
Rounding the corner Thomasia pauciflora [Section 25] has down-turned pink flowers with dark centres over the low, dense shrub. Walk below the limbs of the Kurrajong tree, Brachychiton populneus subsp. populneus [Section 30] with cup-shaped flowers of pale green with pink centres. Crossing the road, another tree, Eucalyptus andrewsii subsp. campanulata [Section 6] is large with fine brown bark and up high, white fluffy flowers are enjoyed by insects and birds … and us mortals. Mint bushes along this road include Prostanthera nivea var. induta [Section 6] complete with mauve bugle flowers.
'Tis a floral wonderland …                                                      Barbara Daly.