15 November 2002
The flowers edging Banks Walk are so colourful, including Leptospermum 'Merinda' [Section 210], so richly pink, and opposite, Hibbertia stellaris [Section 172], dwarf shrubs clad with orange flowers. However another colourful and interesting area is the Mallee, just above the Nursery, where this walk will start.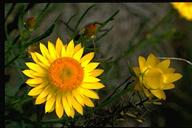 Bracteantha viscosa - click for larger image
One side of the road has yellow straw daisies including Bracteantha viscosa [Section 34] glowing yellow with smaller straw flowers amid green foliage. A little further on a desirable ground cover, Chrysocephalum apiculatum [Section 34], has heads of small yellow flowers brightening its grey foliage.
On the opposite side are numerous emu bushes, including Eremophila glabra [Section 100], also with grey foliage and brightened with deep red tubular flowers, and Eremophila maculata [Section 100], bearing apricot flowers with spotted throats. Halgania anagalloides var. preissiana [Section 100] is a dwarf shrub exhibiting deep blue, bluebell-like flowers. Grevillea fulgens [Section 100] is a spreading, dense, low shrub dotted with curved deep pink solitary flowers. Melaleuca radula [Section 100] is a shrub of medium size with fluffy hot pink flowers while Melaleuca wilsonii [Section 100] has cerise flowers clustered about the stems. Dampiera linearis [Section 100] is a low suckering plant with bright blue flowers along the stems.
From the central boardwalk, Gastrolobium congestum [Section 100] has extended branches terminated with clusters of small orange pea-shaped flowers. Billardiera lehmanniana [Section 100] is a dense vine with tendrils twining about any nearby plant, all covered with small white flowers. The corner includes Eremophila racemosa [Section 100] with tubular flowers ageing from yellow to pink. Pimelea spectabilis [Section 100] is lovely with large clusters of white flowers, with a tint of pink, on upright stems while Eremophila gibbifolia [Section 100] is well covered with small purple flowers.
Continuing along the boardwalk, Jacksonia lehmannii [Section 100] is clad with yellow pea flowers, and Eremophila bignoniiflora x polyclada [Section 100] is quite a spreading shrub with branches of large bugle-shaped white, mauve tinted flowers with dotted purple throats. The patch of blue flowers of small plants of Lechenaultia biloba [Section 100] has a background of Grevillea dielsiana [Section 100] with a covering of red flowers. Chamelaucium axillare [Section 100] is a dwarf shrub so dainty with a mix of pink and cream flowers. Verticordia chrysantha [Section 100] is also a dwarf shrub, rich with yellow flower clusters. Down the bank the shrub with a red glow is Grevillea wilsonii [Section 100]. Pelargonium littorale [Section 100] is small herb with soft hairy leaves and deep veined pink flowers on upright stems. Pimelea rosea [Section 100] has lateral spreading branches with cheery pink floral clusters while, at the exit, Lambertia sp. [Section 100] is an upright shrub with orange-red flowers of its own interesting design.
Another colourful area of these Gardens …                Barbara Daly.