8 November 2002
Waratahs continue to flower, bottlebrushes are just bursting into flower and lots of other plants are bright with flowers. This walk will eventually arrive at the new section of the Rock Garden, just officially opened.
On the way up the ramp admire Alyogyne hugelii [Section 210] displaying its bright purple hibiscus flowers. Nearby find tea-tree cultivars Leptospermum 'Bywong Merinda' [Section 210], a low shrub with deep pink open flowers along its spreading branches, and Leptospermum 'Horizontalis' [Section 210], with stark white flowers along its horizontal branches. At the foot of the steps a corner of Podolepis monticola [Section 210] is bright with frilly yellow daisy-like flowers. Crossing Banks Walk, so colorful with flowers, admire the combination of Dampiera diversifolia [Section 174] carpeted with deep blue flowers and a small shrub, Pimelea 'Magenta Mist' [Section 174], so well covered with rounded pink flower heads.
Across the bridge where Acradenia frankliniae [Section 67], a tall shrub with drooping branches and terminal flower clusters, is one of many white flowering shrubs. At the far end of the Café building one single perfect waratah, Telopea speciosissima [Section 240], coloured sparkling red, is there to admire, between Geraldton Wax cultivars, Chamelaucium uncinatum 'Newmarracarra' [Section 240], displaying soft pink flowers.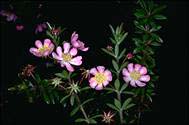 Bauera rubioides - click for larger image
Walk along the Main Path to the Gymea Lilies, Doryanthes excelsa [Section 8], where red flower clusters are on top of long upright stems, the base surrounded by large strappy leaves. Waratahs include Telopea mongaensis [Section 30] with open red flowers. There also is a small shrub, Telopea speciosissima [Section 30] with one small pink flower. Fringe myrtle, Calytrix tetragona [Section 8], spreads its dense prostrate limbs covered with frilly white flowers, while Bauera rubioides [Section 7] is a dense spreading shrub massed with pink down-turned flowers. A zigzag path leads past a small spreading wattle tree, Acacia saligna [Section 206], aglow with golden flower balls leads to the Rock Garden extension.
This extension is well planted with small flowering plants placed between a scattering of rocks. Starting from the far end, a selection of these small beauties includes Lechenaultia biloba [Section 14], bearing blue flowers, and Ptilotus obovatus [Section 14], with rounded balls of grayish flowers. A taller plant, Anthocercis ilicifolia 'Caldariola' [Section 14] has sprays of interesting yellow star-like flowers. Conostylis candicans [Section 14] has grey strappy leaves surrounding the yellow flower clusters on upright stems. Dampiera sp.[Section 14] has striking blue flowers seen against an upright rock while Adenanthos barbiger [Section 14] bears curvaceous red tubular flowers and Verticordia chrysanthella [Section 14] is densely covered with feathery yellow flowers. Below the stand of grass trees, Xanthorrhoea johnsonii [Section 14], Verticordia pennigera [Section 14], with sprays of soft pink feathery flowers, mingles with the delicate blue and white flowers of Lechenaultia biloba [Section 14]. Flowers then are continuous into the established areas of the Rock Garden.
Wonderful flower-filled Gardens…                                             Barbara Daly.