1 November 2002
As the Main Path winds through a maze of colour, this walk will select a few flowers, commencing at the far end of the Café building where a Geraldton Wax cultivar, Chamelaucium uncinatum 'Purple Pride' [Section 12], is an open upright plant colourful with deep purple waxy flowers. Melaleuca fulgens 'Hot Pink' [Section 10] is rather a woody shrub which continues to display its lovely fluffy pink flowers.
The brilliance of the red flowers of waratahs can be seen throughout the Gardens ‑‑ Telopea 'Doug's Hybrid' [Section 30] is crowned with these large red flower heads. Compare it with Telopea speciosissima 'Parry's Dream' [Section 30] with flowers of an ovoid shape. Leptospermum novae-angliae [Section 30] is shapely with branches heavy with dark-centred white flowers.
The path then passes through an area of many flowering grevilleas. Grevillea  'Poorinda Peter' [Section 25] is quite an enormous shrub bearing pale pink toothbrush-like flowers while, across the road, Grevillea johnsonii x wilsonii [Section 24] is upright and open and so attractive, with brilliant waxy curvaceous red flowers. Grevillea flexuosa [Section 26] has perfumed yellow candle-like flowers at the ends of its arching branches.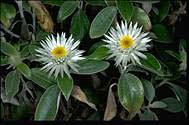 Helichrysum elatum
click for larger image
Crossing the road, Boronia muelleri 'Sunset Serenade' [Section 112] is a small rounded shrub, pink with star-like flowers. In the Sydney Region Gully other lovely boronias can be seen, including Boronia pinnata  [Section 191H] with soft pink flower balls opening to pink star flowers. Black-eyed Susan, Tetratheca thymifolia [Section 191S] is low and dense and covered with down-turned white flowers. Opposite the lookout, Helichrysum elatum [Section 191P] abounds with large white daisies in clusters on long stems. In front, Patersonia glabrata [Section 191P] has purple three-petalled flowers on upright stems surrounded by narrow strap-like leaves. Scaevola aemula [Section 191P] is a prostrate plant with purple fan-flowers on the lateral branches and Sowerbaea juncea [Section 191G] has upright stems with clusters of mauve flowers surrounded by grass-like foliage. Pultenaea villosa  [Section 191i] is an upright shrub with small yellow pea-shaped flowers covering the arching branches. Telopea mongaensis x speciosissima [Section 191 I] is so spectacular with its red flowers. Bauera rubioides [Section 191M] is low and dense and spreading and well covered with small down-turned pink flowers.
Cross the pleasant Eucalypt Lawn to the Rock Garden and the new section, all abounding with flowers including the prostrate herb, Dampiera diversifolia [Section 15R], with strands of deep blue flowers and Rhodanthe chlorocephala [Section 15R] with soft pink and white daisies on upright stems. In front, Gymea Lily, Doryanthes excelsa [Section 15C] bears large red flowers on long upright stems.
Entering the Rainforest Gully, Podolepis monticola [Section 114] has bright yellow frilly daisies and many orchids, including Dendrobium kingianum [Section 104] with dainty pink flowers, so snug between the rocks. At the far end of the rainforest other orchids, including the white-flowered Orange Blossom Orchid Sarcochilus falcatus [Section148], cling to the tree trunks. Flowers continue in profusion down the ramp.
Flowers, flowers, beautiful flowers …                                                     Barbara Daly.