25 October 2002
Below the carpark the groups of blue and pink daisies, Olearia phlogopappa [Section 170], are very colourful. Opposite the Visitor Centre doors, the display of orchids includes the small pink-flowered Dendrobium kingianum [Section 210]. This walk, where flowers continue in abundance, starts at the lower corner of the peaceful Sydney Region Gully.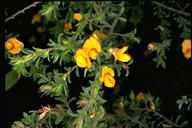 Pultenaea villosa - click for larger image
An area of white straw daisies in clusters on upright stems, are Helichrysum elatum [Section 191H], the strappy plants with bright purple three-petalled flowers on upright stems are Patersonia sericea [Section 191H] and Vanilla Lilies, Sowerbaea juncea [Section 191H], are tufted plants with many small clusters of purple flowers on upright stems. Closer to the corner, the vivid orange-yellow flowered shrub is Oxylobium arborescens [Section 191H], covered with pea-shaped flowers. Nearby a smaller upright shrub with arching branches of yellow pea-shaped flowers is Pultenaea villosa. In front, the startling smaller rounded shrub covered with bright pink star-like flowers is Eriostemon australasius [Section 191H].
Edging the road overlooking the gully, Philotheca (previously Eriostemon) scabra subsp. latifolius [Section 191K] is a low spreading shrub clad with snowy white star flowers. Before entering the narrow path, admire the taller shrub, Boronia muelleri [Section 191F] clad in profusion with soft pink flowers amid the pinnate leaves. Nearby Epacris longiflora [Section 191F] dangles its red tubular flowers with white mouths from an entanglement of branches. Along this narrow path, Boronia pinnata [Section 191F] is a low spreading plant with brilliant deep pink open star flowers. Acacia bulgaensis [Section 191K,H] is a small tree, clad in profusion with brilliant yellow flower rods … really a spectacle … Hibbertia aspera [Section 191K, F] is a dense low shrub dotted with small yellow flowers while, close to the descending stairs, Hibbertia dentata [Section 191K] is a spreading ground-cover with dark leaves and large bright open flowers. Platylobium obtusangulum [Section 191K] displays its bright yellow pea-flowers with red throats among spear-shaped leaves on a small shrub.
Take a seat ‑ the colourful Crimson Rosellas and shiny black Choughs may be seen splashing in the stream below. Dampiera sp. [Section 191], with deep blue flowers, suckers beside the seat and opposite a waratah, Telopea speciosissima [Section 191F], displays its brilliant red flowers.
Crossing the road (the way to the Display Glasshouse is to the right), Philotheca buxifolius [Section 191Q] is a rounded shrub well covered with white star flowers crowded at the ends of the branches. Along the path Grevillea baueri [Section 191 Q] bears its pink and cream spider flowers on long low branches. Hakea saligna [Section 191Q] edges the path; the upright shrubs bear bright yellow flowers. Hardenbergia violacea [Section 191Q], with its purple pea flowers, trails over the wall while Clematis aristata [Section 191Q] twines lazily, showing off its obvious white flowers over a plant.
Another enjoyable section of the Gardens …                                              Barbara Daly.