The car park is pink with flowers of Indigofera australis. Opposite the Visitor Centre doors are many epiphytic orchids which include the Rock Orchid, Dendrobium speciosum [Section 210], displaying many large sprays of small white orchid flowers.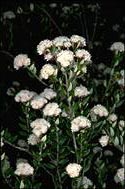 Cryptandra scortechinii-click for larger image
There is colour in all areas of the Gardens so the Rock Garden is selected this week. Start at the base of the steps and walk in a clockwise direction around the area. Tetratheca thymifolia [Section 15C] is a low spreading plant bearing white down-turned flowers. Behind, a Gymea Lily, Doryanthes excelsa [Section 15C], has a cluster of red flowers on top of the elongated stem which is surrounded by dense strappy leaves. Cryptandra scortechinii [Section 15C], edging the path, is low and spreading with heads of small woolly white flowers. Over the path, Grevillea 'Royal Mantle' [Section 15D], with red toothbrush-like flowers, covers the rock face. Edging the path, in a sheltered nook, Dampiera linearis [Section 15D] is bright with blue flowers and Hibbertia glaberrima [Section 15D] has yellow flowers. Above the stairs Grevillea brachystylis [Section 15D] is an open shrub with red flowers along its upright branches. Mingling with it are the china blue flowers of Lechenaultia biloba [Section 15D].
Choryzema cordatum [Section 15E] is yet very small with a covering of orange and pink pea flowers while, opposite, a pigface, Carpobrotus rossii [Section 15B], a groundcover with succulent leaves is bright with large magenta flowers. The perfume of Boronia megastigma 'Virtuoso' [Section 15F], with small bell-like deep brown flowers, pervades the environment.
At the base of the stairs, a mint bush, Prostanthera staurophylla [Section 15A] is an open graceful shrub clad with mauve flowers. Close by, a Bulbine sp. [Section 15A] with long succulent leaves displays its yellow flowers on top of long, upright stems. At the top of the stairs Hibbertia stricta [Section 15A] is bright with yellow flowers over the dense shrub while Phebalium whitei [Section 15A] also has yellow flowers over a smaller shrub.
From the top road, a waratah hybrid, Telopea 'Braidwood Brilliant' [Section 15H], a large, rounded shrub is laden with red flower heads, not quite mature. Grevillea lavandulacea [Section 15H] is an upright, old shrub capped with bright red spider-like flowers. Around its base Hypocalymma angustifolium [Section 15H] has a dense network of branches well covered with tiny pink and white flowers. A ground cover, Dampiera diversifolia [Section 15H], has blue flowers along its trailing stems, blending with Brachycome formosa [Section 15H] which bears pink daisies.
Kangaroo Paw, Anigozanthos manglesii [Section 15G], is brilliant with upright red stems and green flowers, Micromyrtus ciliata [Section 15G] has dark red flowers over a low arching shrub, Isopogon cuneatus [Section 15P] has floppy pink flower heads and another waratah, Telopea speciosissima 'Wirrimbirra White' [Section 15R] displays its large white flowers… All worth finding, and that's not all for the 'New Section' abounds in flowers including the remarkable Prostanthera magnifica [Section 15] with purplish-brown and mauve flowers.
Wonderful flowers …                                                               Barbara Daly