27 September 2002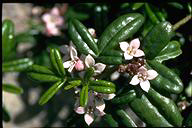 Zieria prostrata - click for larger image
In the garden just below the Visitor Centre is Restio tetraphyllus [Section 223], a grass-like plant with upright stems of a yellow-brown colour with what looks like plumes for flowers. Homoranthus sp. [Section 222] is a small, low growing plant covered with bright yellow flowers as well as red and green buds that haven't yet opened. In contrast Eremophila nivea [Section 221] is an upright plant with silver-grey foliage and tubular mauve flowers contrasting well with its foliage. Zieria prostrata [Section 221] is a woody looking plant, covered all over with tiny pink flowers.
Acacia 'Gold Lace' [Section 170], just near the shelter at the bottom of the car park, is a sprawling, prostrate wattle complete, of course, with lots of golden balls. Eriostemon myoporoides subsp. myoporoides [Section 170] has pink buds opening out to white flowers with five petals and a little touch of orange in the middle. Take the path that leads into the Tasmanian Garden from the lower car park.
There is an interpretive sign explaining the Tasmanian Garden plantings and it is well worth reading. Almost opposite the board is a shrubby plant, Ozothamnus expansifolius [Section 232], with brownish buds and lots of cream daisy flowers. Along on the right is the small Philotheca difformis subsp. smithianus [Section 171], with tiny star-like flowers and lots of brown buds not open yet. Ranunculus collinus [Section 171] is a native buttercup and makes an attractive ground cover plant, with each small stalk having three leaves and its bright yellow flowers held up above the leaves. Looking down across the Boundary Road, there are three Calothamnus quadrifidus [Section 99]. These rather open, grey plants are commonly known as Net Bushes, and they are at their best now displaying their bright red flowers.
Epacris gunnii [Section 232] is a small, upright heath with white flowers from about two thirds of the way up its stems. Eucalyptus barberi [Section 232] is more a mallee than a tree, with its flowers nestling amongst its leaves. There is a small paved area leading back into the inner garden, where Spyridium obcordatum [Section 232] shows off tiny white to cream flowers. Phebalium squameum subsp. retusum [Section 232] is also covered in tiny, fluffy white flowers. Grevillea australis [Section 232], is a rather sprawling plant compared to the size of its tiny leaves, with flowers of creamy white which must produce lots of nectar as the bees are crawling all over it.
Compare Ozothamnus expansifolius [Section 231], a small pine-like plant covered in brown buds with just a few cream flowers, with Ozothamnus ledifolius [Section 231], a small bright green plant with just a few tiny yellow flowers at the end of its branches. The bed wandering around the waterfall is also well worth a look. Westringia rubiifolia  [Section 236] has its tiny white flowers sitting in a ring of leaves at the tip of each branch. There are lots more plants to see around the car park area.
Enjoy your walk,                                                                    Naomi Bell