20 September 2002
On leaving the Visitor Centre turn left and, a little way down, is Eremophila 'Murchison Magic' [Section 210], with very soft grey foliage and drooping orange flowers tucked between its leaves. There are a number of small plants in flower on either side of the walkway. Just past the small bridge, on the Rainforest side is Indigofera australis [Section 125], a very dainty plant with mauve-pink pea flowers.  The notice beside is well worth reading. Just about opposite is Grevillea 'Pink Pixie'[Section 124], with typical spider-like flowers of a delicate pink. Next to it is a clump of much taller plants, Grevillea 'White Wings'[Section 124], with very dainty, fine white flowers. On the Brittle Gum Lawn is Banksia spinulosa var. spinulosa [Section 107], with orange cones that have dark red styles.  Walk across the lawn to the path, and continue on to Westringia glabra [Section 6], a medium sized shrub about half a metre high, with blue-mauve flowers scattered all over it.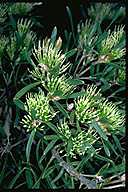 Hakea corymbosa - click for larger image
Wander through the Rock Garden where there are lots of different plants to admire.  Then on to see Hakea corymbosa [Section 20], a nicely shaped plant with rather stiff, sharp pointed leaves. Its green-yellow flowers are clustered between the spikes. Hakea purpurea [Section 20] has its red-purple flower clusters huddled between its leaves too.  Here also is Hakea recurva [Section 20], again with spikes on its leaves. Its flowers are creamy coloured, held on a slender stalk and its buds seem to have a touch of pink.  There are more plants to see in this small garden.
Take the path going up to the Nursery. There is much to see as you go along and it is a good place for children to run.  Just past the Nursery and on the right is a garden where numerous small plants are growing. One of these is Astartea sp. [Section 100], a tiny plant with lots of pink buds opening out as white flowers with cream centres. Baeckea virgata [Section 41] is a large bush with lots of spent, brown flower capsules, which at a quick glance, could be taken for flowers! Melaleuca nodosa [Section 41] is a large shrub dotted all over with small, creamy-coloured flowers with a tiny brownish centre.  Allocasuarina inophloia [Section 40] (not in flower) has the shaggiest of bark all over its trunks looking rather like the coat of some animal. Allocasuarina torulosa [Section 40] has a reddish-brown sheen of tiny flowers all over it. Hakea francisiana [Section 38] is a very large sprawling tree at the very top of which are a few flowers completely out. These are a very definite pink, with lots of buds yet to open. Banksia ericifolia var. ericifolia [Section37] with rather large orange cones and its styles are the same colour. Acacia pravissima [Section 123b] has pendulous branches with tiny leaves where its clusters of yellow flowers sit comfortably.
Enjoy your walk,                                Naomi Bell