13 September 2002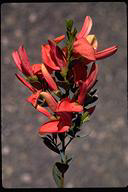 Templetonia retusa
click for larger image
Along Banks Walk Epacris microphylla subsp. microphylla [Section 174] has tiny white flowers up its stems while further on in this bed is Grevillea 'Flame 'n' Beauty' [Section 174], a very aptly named plant with grey-green foliage setting off its large cream flowers with bright red styles. Follow the path past the Café to the last of the tables where there is a small triangular bed with Templetonia retusa [Section 244]. This plant is a bit spindly but has quite large orange pea flowers. Branch off to the right to see Hardenbergia 'Mini Haha' [Section 240], though there is nothing 'mini' about the area of ground this lovely scrambling blue flowering plant is covering. Acacia alata [Section 240], back on the Main Path, displays its fluffy cream balls of flowers on the ends of tiny stalks, but has lots of vicious looking spikes too.
Wander up to just opposite the Bottle Tree (do read its sign), where a Grevillea sericea hybrid [Section 118] is a shrub about a metre tall with dark mauve flowers in typical spider-like clusters. Close by is Chamelaucium uncinatum 'Murfit Rose' [Section 118], with its five-petaled flowers of a gentle mauve. Across the road is Eremophila maculata subsp. maculata [Section 302], a small bush with yellow drooping flowers. Grevillea aspleniifolia [Section 127], a ground cover plant, covers a very large area with toothbrush-shaped reddish flowers.
A wander through the Rock Garden area is always well worthwhile. At the moment there are quite a few paper daisies in flower as well as numerous other plants to admire.
Westringia longifolia [Section 123a] has dainty mauve and white flowers with more mauve buds to open. Opposite is Acacia boormanii [Section 122] with reddish stems, green leaves and bright golden balls, a delight. Immediately in front of it is Eriostemon myoporoides subs. myoporoides [Section 122], about a metre high, with white, star-like flowers and still just a few pink buds to open out. Notelaea linearis [Section 123a] is not yet in flower but is covered in clusters of tiny yellow buds blending well with its foliage.
Acacia podalyriifolia [Section 122] is another of the wattles with silver-grey foliage and whose flowers are golden balls. Further on, Eucalyptus pulverulenta [Section 37] has its dainty flowers tucked into its leaves. Unopened buds too, are tucked in neatly. Beside it is Banksia speciosa [Section 37], with long grey-green toothed leaves but only one prominent yellow-green cone in the forefront of the tree. Follow the main branch to the top of the tree where there may be more, certainly there are old cones from past flowerings. Read the Root Rot sign and marvel at how well the mass plantings of Crowea 'Festival' [Section 123] brighten this area with their mauve flowers. On your way back down the hill find Epacris calvertiana var. calvertiana [Section 17], an upright shrub very well covered with small cream-white tubular flowers.
Enjoy your walk,                                                                                            Naomi Bell