6 September 2002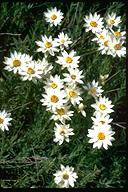 Rhodanthe enthemoides - click for larger image
Along Banks Walk you will find Zieria formosa [Section 174], a small group of these plants are all covered in pale mauve flowers which contrast well with their grey foliage. Rhodanthe anthemoides [Section 174] has lots of unopened white flower buds tipped with a hint of mauve, whilst the flowers that have already opened are white with bright yellow centres. There are a couple of small plants, about 30cm in height, of Crowea 'Festival' [Section 174], with dull green foliage set off by the red of the stems and the deep mauve of the flowers.
Acacia podalyriifolia [Section 126] has its silver grey foliage covered with lovely golden balls, a delightful plant. Banksia spinulosa [Section 126] has lots of cylindrical orange flower spikes, and those at the top of the bush seeming to sparkle in the sunlight. Grevillea 'Poorinda Diadem' [Section 126] has orange spider flowers in clusters, showing up well against the dark green of its foliage.
Several low growing plants of Micromyrtus ciliata [Section 10] in a sunny position display tiny white flowers, some already changing to a dull red. Further on is Calothamnus quadrifidus [Section 9], with grey-green foliage and red flowers scattered along the stems. Olearia microphylla [Section 10] is used here as a group planting, all with clusters of white daisy flowers. Banksia robur [Section 9] is a large shrub with some of its large leaves almost purple in colour while the others are green. This year's flowers are yellow but there are still lots of old cones from the flowering of years past. Grevillea dimorpha [Section 28] is a small shrub with its typical grevillea orange-red flowers in clusters along the stems. Acacia decurrens [Section 28] is a classic wattle, with dark green leaves and golden ball-shaped flowers.
Hakea recurva [Section 20] has very rigid leaves which come to a very sharp point whilst its creamy yellow flowers are in clusters. Acacia menzelii [Section 18] is a large shrub dotted with dainty cream balls amongst its spiky leaves. Acacia cv. [Section 3] is rather a sprawling plant with lots of yellow buds and with just a few of its flowers completely open.
A number of wattles are coming into flower at the moment and the wattle area [Section 3, 18] is well worth wandering through. Acacia covenyi [Section 3] is a small tree with grey-green foliage and big bright yellow balls, while Acacia kybeanensis [Section 3] is a shrub with slightly different grey-green foliage and bright golden yellow flowers. Acacia aphylla [Section 17] is a completely different plant, about a metre tall, with round, rather smooth blue-grey stems dotted with the typical yellow pom-pom flowers but it doesn't seem to have leaves.
Enjoy the gardens,                                                                   Naomi Bell