23 August 2002
This walk is around and about the Rock Garden where paths have been improved, additions are in progress, and recent heavy frosts have damaged some plants. Regardless of these changes, there are still many lovely flowers to view; start at the base of the steps and walk in a clockwise direction around the area.
Grevillea baueri-lanigera intermediate [Section 15C] is prostrate with branches covered with deep pink flowers creeping between the rocks. Opposite, Correa 'Ivory Bells' [Section 15] is a dense rounded shrub with silver-backed leaves and tubular bells suspended from its branches. Grevillea dimorpha [Section 15D] is quite spectacular with bright red flowers along upright stems seen above the rocks. Close to the path, Lechenaultia formosa [Section 15D] is a dwarf plant with open blue flowers while the orange-flowered form of Lechenaultia formosa [Section 15D] can be seen close by. The yellow-centred mauve daisies on upright stems are those of Olearia laciniifolia  [Section 15D].
Compact between the rocks, Zieria odorifera [Section 15F] is a small shrub clad with small pink and white flowers. Hypocalymma xanthopetalum [Section 15F] has small yellow hairy flowers along its prostrate branches. Seen on the other side of this section, Hybanthus floribundus var. adpressus [Section 15F] is a dainty dwarf shrub attractive with blue-white flowers. Flowing down the bank, Grevillea lanigera [Section 15W] is dense and prostrate with an abundance of red and cream spider flowers.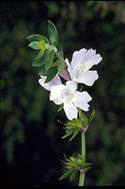 Westringia glabra - click for larger image
Westringia glabra [Section 15A] is a small rounded shrub dotted with mauve trumpet flowers and, edging the steps, the layered branches of Homoranthus sp. [Section 15A] are clad with small yellow flowers. The cheery yellow straw flowers of Bracteantha sp. [Section 15A] are scattered throughout many sections. At the top of the steps, Micromyrtus sessilis [Section 15A] is graceful with fine arching branches covered with maroon buds opening to minute white flowers. Micromyrtus ciliata [Section 15G] has similar coloured flowers over a low dense shrub. Acacia boormanii [Section 2], over the road, has long bare trunks capped with dense foliage and bright with soft yellow flower balls.
Banksia integrifolia [Section 15L] lies prostrate over the rocks, revealing its pale lime cylindrical flower spikes amid the silver-backed leaves. Behind the sundial, the dwarf Baeckea ramosissima [Section 15R] is so colourful with many tiny pink flowers. Isopogon cuneatus [Section 15P] is conspicuous with its large showy pinkish-mauve flower heads on the medium upright shrub. Hakea corymbosa [Section 15P] continues to bear dense clusters of lemon-green flowers with prominent cream styles on a medium-size shrub. Hakea myrtoides [Section 15P], with rather dead looking prostrate branches, has clusters of deep red terminal flowers mixed with the green foliage. Hardenbergia violacea 'Mini Haha' [Section 15S] is a small upright shrub now displaying the first of its attractive violet pea flowers. Among a scattering of Rhodanthe chlorocephala subsp. rosea [Section 15R], with rose-coloured daisies on upright stems, the deep blue flowers of Dampiera juncea [Section 15R] can be seen.
Always a great area to enjoy…                                          Barbara Daly.