16 August 2002
Many plants are still covered with buds awaiting warmer days although banksias, grevilleas and hakeas are already showy. Flowers along Banks Walk include Pimelea brachyphylla [Section 174] is a dwarf plant with its branches clad with deep pink buds and white flowers. Rhodanthe anthemoides 'Chamomile Cascade' [Section 174] is low and spreading covered with white everlasting daisies while a Geraldton Wax cultivar, Chamelaucium uncinatum 'Cascade Brook' [Section 174], is an open upright shrub bearing shades of pink waxy open flowers.
In front of the Café building, Hardenbergia violacea 'Mini Haha' [Section 240 and elsewhere] is dense and spreading, showing the first of its purple sprays of pea flowers. In the centre of the bed, Crowea exalata 'Cooper's Hybrid' [Section 240] continues to be covered with bright pink star flowers. A wattle, Acacia alata [Section 240], in the small triangular bed, continues to show its soft fluffy flower balls attached to the unusual flattened zigzag branches. In the background, Banksia 'Giant Candles' [Section 143] displays its elongated golden cylindrical flower spikes well above the foliage.
Following the path, another wax flower, Chamelaucium uncinatum 'Purple Pride' [Section 12], also open and upright, has deeper pink flowers. Micromyrtus ciliata [Section 10], seen edging the path around the corner, is a semi-prostrate plant with arching branches massed with white and red flowers. Across the road, Acacia podalyriifolia, [Section 119], the Queensland Silver Wattle, is a small tree with silver-grey foliage and yellow with clusters of soft fluffy flowers…. Can't help but enjoy the family of choughs, so black, strutting about the ground litter, and the tiny scrub wrens and blue fairy wrens dancing about the ground also in search of their favourite morsels…
Banksia ericifolia var. ericifolia [Section 30] is radiant with golden cylindrical flower spikes covering the large shrub, while edging the path Grevillea lavandulacea 'Tanunda' [Section 30] is a dwarf shrub with green-grey foliage bright with scarlet spider flowers. Opposite, Grevillea lanigera [Section 30] is also dwarf, its foliage being bright green with deep pink spider flowers.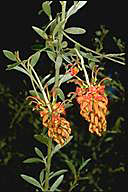 Grevillea diminuta - click for larger image
Taking the lower narrow path through the older established shrubs, Grevillea victoriae [Section 27] is a medium shrub bearing rust-red spider-like flowers suspended from its long lateral branches. The branches of Persoonia levis [Section 27] arch over the path, its terminal flowers are small and yellow and its pale green fruits are suspended from the branches in clusters. Grevillea rosmarinifolia sens. lat. [Section 27] is low and spreading, displaying yellow flowers while, close by, Grevillea diminuta [Section 27] is a low open plant with deep red small flowers along the upright branches. Banksia integrifolia subsp. compar [Section 27] is a large spreading shrub alight with lemon flower spikes dotted with grey. Worth viewing around the corner, Banksia occidentalis [Section 27] is tall and lanky, with trunks mottled red and grey and presenting a few colourful red and cream flower spikes.
Another pleasant and relaxing walk …                          Barbara Daly.