26 July 2002
On leaving the Visitor Centre turn right and walk down to the Joseph Banks bust where in the left hand bed is Chrysocephalum semipapposum [Section 174], dotted with small yellow flowers. Near the corner of this bed is Cryptandra sp. A [Section 174], its tiny white flowers dominated by its bluish-green bracts. Take the path on your left to view the large shrub of Alyogyne 'West Coast Gem'. [Section 210] with its large, bright purple flowers. A little way on is Eremophila maculata [Section 210], a much smaller plant, with lots of yellow flowers, tubular with a slight curve. Here too is Banksia spinulosa [Section 210], with typical banksia flower spikes, bright yellow with dark styles. Turn right again, down past the waterfall to Guichenotia ledifolia [Section 174], a small plant with sprays of cup-like mauve flowers contrasting well with its grey foliage. There are numerous small plants flowering here.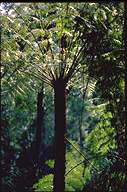 Walking past the Rainforest Gully, there are numerous Rough Tree Ferns, Cyathea australis [Section 125], along the edge of the path helping to close the canopy of the rainforest, while on the opposite side of the path are a number of plants of the small Grevillea rosmarinifolia 'Rosy Posy' [Section 182], with their pendulous red and cream flowers. Back again to the other side of the path, where Rubus hillii [Section 125], the Native Raspberry, displays the fruits which are the reason for its common name.
Just past the path into the Rainforest area are a few plants of Telfordia eriocephala [Section 104] with their white and pink buds about to burst open. A little further on Pittosporum undulatum [Section 104] has a few orange-coloured fruit, though most have already turned black.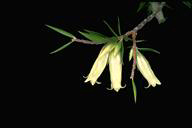 In the triangular display bed, Epacris calvertiana var. calvertiana [Section 17] is covered with lots of small, cream-white tubular flowers. Also in this bed is Chamelaucium 'Cascade Brook' [Section 17], with vibrant pink flowers. A picture. This bed, though small, seems to have something in flower all the time. The nearby sign about Armillaria Root Rot is worth reading.
Homoranthus darwinioides [Section 15] has blue-grey foliage with tiny red and yellow flowers. Looking across the Rock Garden numerous clumps of gay yellow paper daisies can be seen scattered here and there. Take the next right into the Rock Garden and find Micromyrtus ciliata [Section 16] with its many tiny red buds with just a touch of pink. Not quite out, but worth a look. Wander through the Rock Garden and down to the pathway in front of waterfall. In the bed with a large rock has been planted, amongst other things, Eucalyptus extrica [Section 15]. The blue-green foliage colour makes it one of the most delightful of small gums.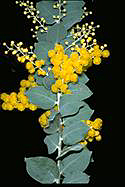 Acacia podalyriifolia [Section 119] with silver-grey foliage and bright golden flowers seems to brighten the entrance to the little path it is on and the small Correa reflexa 'Maroonda Tricolor' [Section 119] is aptly named with its bell-shaped flowers red, tipped with yellow, against dark green foliage.
Enjoy!
Naomi Bell.