Australian National Botanic Gardens
---
In Flower This Week

A weekly news-sheet prepared by a Gardens volunteer.
Numbers in brackets [ ] refer to garden bed 'Sections'. Plants in flower are in bold type.

17 May 2002
Flowers along Banks Walk are so colourful. But why stop here, for further afield beauty and variety continue. This walk starts up near the Nursery where, over the gate, rows of plants which will eventually be added to these wonderful Gardens can be seen. The road upwards is edged with ground-covering plants including Grevillea lanigera [Section 34], covered with its pink and cream spider flowers, Chrysocephalum apiculatum [Section 34], clad with grey foliage and bright orange clusters of small flowers, and Brachycome multifida 'Breakoday' [Section 34], its soft green foliage punctuated with small purple daisies.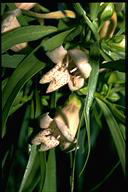 Eremophila bignoniiflora x polyclada
Following the boardwalk through the Western Mallee plantings, flowers include Eremophila strongylophylla [Section 100] with purple bugle-like flowers on this dwarf shrub. Not so dwarf, Eremophila bignoniiflora x polyclada [Section 100] has an entanglement of branches highlighted with mauve, almost white, bugle-like flowers with purple dotted throats. Grevillea dielsiana [Section 100] suspends its pendent clusters of bright orange-red flowers from open branches and in front Lechenaultia biloba [Section 100] reveals its powder blue flowers over a dwarf plant. Hypocalymma strictum subsp. longifolium [Section 100] is also a small plant with a covering of pink frilly flowers while Dampiera lanceolata var. lanceolata [Section 100] bears its deep blue flowers on upright leafless stems. Acacia alata [Section 100] is unusual, with flattened irregular stems and leaves dotted with cream fluffy flower balls on a prostrate plant.
At the curve, Thomasia petalocalyx [Section 100] has downturned pink flowers scattered over the low spreading shrub. Banksias include Banksia epica [Section 100], a small shrub with short serrated leaves and ochre-dotted cream flower heads and a few green budding spikes. Another emu bush, Eremophila oppositifolia [Section 100], is an open shrub of medium size with curved tubular cream flowers. Hakea ceratophylla [Section 100] has a covering of white lacey flowers over this medium rounded shrub. At the end of this path, Banksia ericifolia var. ericifolia [Section 103] displays many rich gold flower spikes over this large old shrub.
Around the corner from this section, the Cliff Bottlebrush, Callistemon comboynensis [Section 103], is dense with dark foliage and squat crimson-purple flower spikes. Across the road are small slim trees of White Holly, Auranticarpa rhombifolia [Section 96], decorated with many large clusters of orange fruits and glossy green leaves … some picture! Edging this road are numerous correas including the tubeless white-flowered Correa alba [Section 72], Correa reflexa x pulchella [Section 72], with orange-throated red tubular flowers, and Correa alba x reflexa [Section 72], with cream-throated pink tubular flowers.
The next area [Section 87] contains many cultivars, including croweas, callistemons and others, all waiting to be admired. A good place to discover new plants suitable for your home garden.
Really a great walk …                                                           Barbara Daly.
---
Updated May 20, 2002 by, Jan Wilson (jan@anbg.gov.au)
---